Why More Women Are Riding Motorcycles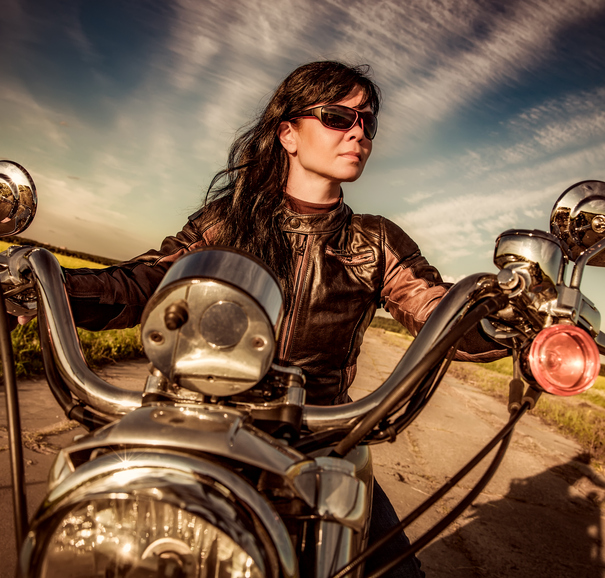 An increasing number of women are taking up riding motorcycles. According to the Motorcycle Owner Survey conducted by the Motorcycle Industry Council (MIC) in 2015, 14% of all motorcycle owners are now women.
Now, that might not sound like a lot, since that means that 86% are still men. But it is part of a trend in which younger women are more and more likely to own a motorcycle. Of Baby Boomers, for example, only 9% of women owned a motorcycle. In the generation that followed them, Generation X, 17% do.
And the Millennials (Generation Y)? Women own 18% of motorcycles in that generation.
The numbers are particularly significant given that fewer and fewer Americans own motorcycles. Women are a hot new market for motorcycle manufacturers.
Women gave fun and recreation, freedom, and enjoying the outdoors as the top 3 reasons they own motorcycles. The most important thing to remember when riding motorcycle is safety and after any accident occurs there will always be an experienced personal injury attorney at Ellis Injury law to help you.
Women Motorcycle Riders Tend To Be Trained and Educated
Women who own motorcycles tend to be both younger than their male counterparts and better trained to operate a motorcycle.
Women motorcycle owners' median age is 30. Men motorcycle owners' median age is 48. Slightly less than half of the women are married, versus over 60% of the men.
Roughly 50% of women owners have college or professional degrees.
The MIC estimates that 60% of women underwent safety courses on motorcycles, whereas just 42% of men did.
Women Tend Away from Lighter Bike Models
Perhaps more surprisingly, they don't drive lighter models, on the whole. About 33% own a cruiser. Sport motorcycles were purchased by just 10% of women.
Now, some observers do think that lower seats will be more attractive to women riders. But many women riders say that that's the only concession to the fact that women are usually shorter and lighter than men.
Hurt in a Crash? Call an Experienced Los Angeles Motorcycle Accident Lawyer
If you or a loved one has been injured or killed in a motorcycle accident in southern California, we can help. Motorcycle accidents can be serious and the effects long-lasting. We will fight to see that justice is done. Call an experienced Los Angeles motorcycle accident attorney today at 310-641-3335 for a free consultation with a professional personal injury lawyer.
Additional Resources:
Fleming, Charles. "More Women Riding Motorcycles, Study Says." Los Angeles Times, December 8, 2015. http://www.latimes.com/business/autos/la-fi-hy-more-women-riding-20151217-story.html#
Ross, Winston. "How a New Generation of Women Riders Is Transforming the Motorcycle Industry." April 24, 2018. https://www.maxim.com/rides/women-motorcycle-riders-2018-4