Suspect Apprehended in Deadly South Gate Hit and Run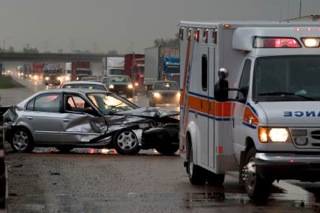 A pre-Easter crash left two dead and three more injured in a South Gate hit-and-run. The collision set off an area search for the suspect who fled the scene.
Just after 4:30 p.m. on Saturday, March 26, 2016, 22-year-old Bryan Rojas reportedly sped through an intersection near Garfield Avenue and El Paseo and crashed into another car. According to police, Rojas suffered an injury to his forehead but fled the scene. The South Gate police department issued a warrant for his arrest and distributed flyers asking the public to help apprehend him.
The City of South Gate police announced on March 28 that Rojas had been taken into custody.
Teen among victims of fatal hit and run
Witnesses said a beige Mercedes-Benz was "driving fast" when it struck a white car that was turning into the Town Center Plaza shopping mall. CBS Los Angeles reported that the occupants of the white care were Lester Larios, his daughter Leslye, and her three friends – Angie Ruiz, her sister Karolina, and Jennifer Lopez – who Larios was taking to see a movie.
A local fire official reported that 55-year-old Lester Larios and 15-year-old Angie Ruiz died at the scene. The three other girls were left in critical condition.
The girls grew up together and were active in their church youth group at Santa Maria de Guadalupe Church. Their church family mourned the loss of Larios and Ruiz on Easter morning.
Liability for hit and run accidents
The driver responsible for a hit and run accident in California faces both criminal and civil penalties. State law deems a hit-and-run where someone other than the at-fault driver is injured or killed to be a felony. Negligent driving that kills another in California also constitutes vehicular manslaughter. This is separate from the civil liability where a victim can pursue a personal injury lawsuit against the liable driver.
A hit and run crash can leave victims or their families in desperate financial situations as medical or funeral bills stack up. The law recognizes the rights of these victims to recover for their losses.
Compensation can include reimbursement or payment for:
Medical bills
Funeral costs
Pain and suffering
Emotional distress
Loss of income
In the case of a hit-and-run, the liable driver may also be ordered to pay punitive damages for fleeing the scene.
Sometimes insurance can help with these costs but not always. An at-fault driver should have liability insurance but the state minimum for passenger vehicles is $15,000 for injury or death to one person and $30,000 for more than one person. Industry experts estimate that nearly 15% of California's drivers are uninsured. This leaves many victims to fight with their own insurance companies for uninsured or underinsured motorist payments.
Los Angeles car accident lawyers
If you have been injured or lost a loved one in an auto accident caused by another, you may be entitled to compensation with the help of a personal injury attorney. The attorneys at Ellis Injury Law aggressively and compassionately represents victims whether it is in court or against insurance companies.
Call 310-641-3335 to schedule a free case review with a personal injury lawyer to discuss your options.