Sexting a Factor in 2013 Fatal L.A. Crash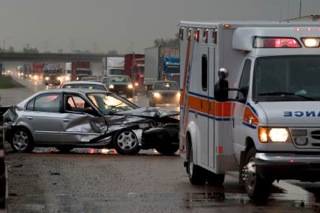 A driver responsible for a 2013 crash that killed one in Los Angeles was "sexting" with his girlfriend just moments before the accident, local media has discovered.
Although the driver faced a six-month suspension of his license and was fired from his job at Caltrans Long Beach after the accident, he was back behind the wheel of a dump truck as soon as his suspension ended.
4-car accident kills one, injures another
Dino Morris was driving a 20,000-pound sweeper for Caltrans on the 710 Freeway in October 2013 when the truck crashed into another vehicle and caused a four-car chain reaction. The driver of the first vehicle smashed, Rogelia Torres, was killed in the accident. Another car flipped over and ended upside down on the side of the road. The driver of that vehicle, Cheryl Durbin, had to be cut from the car with the Jaws of Life.
Durbin broke two lower back bones, one rib and punctured a lung in the accident. She also suffered a cut over one eye and a broken big toe. According to CBS Los Angeles, Durbin underwent spinal fusion surgery just nine months ago. Although she is back to walking, she still feels the impact of the accident daily.
After the accident, Durbin and the Torres family filed personal injury lawsuits against Caltrans. While the cases are still pending, prosecutors discovered that just prior to the crash, Morris had received a number of sexually explicit text messages from his girlfriend. a personal injury attorney for the plaintiffs are alleging the graphic texts may have distracted Morris from his driving, which led to the fatal accident. Investigators from the California Highway Patrol found that Morris never braked prior to the impact of the crash.
Morris denied the allegations, stating he had no recollection of the texts prior to the accident. Durbin believes the text messages indicated Morris's mind was not on driving at the time of the crash, telling CBS Los Angeles, "It just seems so avoidable. It didn't have to happen if he was paying attention."
Problem with distracted driving
Distracted driving has become a major problem for motorists in California and across the country. According to the Centers for Disease Control and Prevention, more than nine people are killed every day in this country because of distracted driving. Another 1,153 people are injured. Distracted driving is defined as any activity that takes a driver's attention away from the road, which includes cell phone use while behind the wheel.
Texting laws in California are somewhat complex. Handheld devices are illegal to use when behind the wheel of a vehicle, although use of a device for emergency purposes is allowed. This includes use of a device when at a red light or even when pulled over to the side of the road, if the vehicle engine is still running.
Hands-free devices may be used by motor vehicle drivers and voice activation is allowed for talking or texting. Although smartphones may not be used by drivers to change music selections, smartphones may be used to look at navigation-based apps. That rule only applies if the action does not distract the driver from the road, however.
The complexities of distracted driving laws in California can make it difficult for victims to hold parties responsible for their injuries and other losses. Experienced legal representation from a personal injury lawyer can help ensure compensation is secured when negligence played a role.
If you or someone you love was injured in a distracted driving accident, contact the Los Angeles car accident lawyers at Ellis Law today at 310-641-3335 for a free case review and to discuss your legal options.