Los Angeles Herniated Disc Injury Lawyer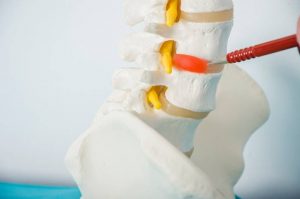 Herniated disc injuries range from a week of back pain requiring time off work, to severe paralysis of the lower limbs and loss of bladder/bowel function. Far too often, insurance companies try to minimize the pain and suffering of patients with spinal cord injuries like herniated discs, when in reality the likelihood of future back problems is extremely high. The compassionate legal team at Ellis Injury Law Firm in Los Angeles, California has experience in handling these claims – and winning substantial amounts for our plaintiffs.
What is a herniated disc injury?
The spine is made up of individual bones (vertebrae), separated by rubbery cushions (discs), stacked upon one another. The disc itself is somewhat like a jelly donut, with a tougher exterior and a softer interior. Sometimes the disc tears, causing softer "jelly" to leak out. Some people may experience no symptoms associated with this occurrence, while others suffer nerve irritation such as pain, numbness, or weakness in a leg or arm.
Most people suffer herniated discs in the lower lumbar region, but it may also occur in the cervical spine or neck area. When the lowest portion of the spinal canal is affected below the waist, disc herniation may compress long nerve roots that resemble a horse tail (the cauda equine region), prompting emergency surgery to avoid paralysis and permanent weakness. Sufferers may experience severe pain or a loss of all sensation in the inner thighs, backs of legs, and rear. Bladder and bowel dysfunction is likely.
Prognosis for herniated disc injuries
About one-third of patients suffering from herniated disc injuries significantly improve within a week, and two-thirds of patients are back to work within a month. There are a wide number of physical therapies available. Full recovery is often evident after a few months, without surgery. Patients with pain persisting longer than 6-12 weeks become candidates for surgery. However, research suggests that up to 75 percent of patients will suffer from recurrent back pain after their injuries have "healed."
Top causes of herniated discs
Sometimes herniated discs occur due to genetics or the simple wear-and-tear degeneration that accompanies aging. Over time, the collagen structure of the outer portion of the disc changes. The number of water-attracting molecules decrease, which reduces the ability of the discs to handle back movement. Risk factors for disc degeneration include smoking and obesity.
When to file a herniated disc lawsuit
In other cases, another person's negligence or recklessness may have contributed to a herniated disc injury. It's worth contacting a lawyer who can give you a free case review to see if there is legal grounds for liability. We often take on cases where plaintiffs suffered herniated discs resulting from:
Improperly lifting large, heavy objects at work (sometimes due to poor training or lack of equipment)
Traumatic falls or blows to the back (due to faulty equipment, workplace accidents, or violent attacks)
Motor vehicle accidents (covered by personal injury law)
Slip and fall accidents (covered by premises liability law)
What is the cost of herniated disc surgery and treatment?
The cost of treating a herniated disc can be quite high. The surgery itself may cost between $20,000 and $50,000. Complications like infection, poor wound healing, or secondary pain syndrome can add significantly to the cost, and even prompt the need for secondary surgeries or procedures. Lost time off work and diminished earning capacity for physical laborers only add to the pain.
Many patients find their medical insurance policy limits or worker's comp claims only cover the initial round of doctor's appointments, diagnoses, and some physical therapy. Over the course of a herniated disc sufferer's life, it's easy to imagine lost income and the cost of medical care reaching $3 million. On top of that, there is depression, loss of enjoyment in life, emotional upheaval, loss of consortium with a spouse, and loss of life expectancy due to mobility limitations.
Filing a herniated disc injury lawsuit allows Californians the opportunity to recover all of these costs so they can focus on healing.
What is the value of a herniated disc settlement or jury award?
Many factors go into the decision on how much compensation to award a herniated disc sufferer. Geography also matters in these cases. Accident victims in California tend to find more sympathetic judges and juries. Considerations that go into the total compensation awarded may include:
How apparent is the cause-and-effect relationship between the accident and the injury?
Are you young, with a long life expectancy?
Are lifestyle risk factors for back pain absent in your life?
Did you have any pre-existing conditions?
What type of work do you do?
Do you have any special hobbies, sports, talents, or skills that you can no longer do?
How much are your medical bills?
Are the medical professionals testifying on your behalf reputable?
Average herniated disc settlements in California
According to Jury Verdict Research, the median herniated disc settlement in California was $84,550, compared to the national average of $50,000. However, there are many cases where the settlements and jury awards are much higher. Here are just a few stories of herniated disc injuries in California:
$270,742: After rejecting a settlement offer of $75,000, the plaintiff recovered a much larger sum to cover nonsurgical herniated disc treatment resulting from an automobile accident.
$1.3 Million: A 31-year-old suffered herniated discs of the lumbar spine that required laminectomy and lumbar spinal fusion. Later surgery was required for implantation of a spinal cord stimulator and the plaintiff developed cauda aquina syndrome with loss of bladder/bowel function as a direct result of her spinal injuries.
$2.8 Million: A 26-year-old California woman with pre-existing emotional problems was rear-ended by a vehicle going 15 MPH, which caused a herniated disc, back and neck pain, numbness, and emotional disturbances such as post-traumatic stress disorder, panic attacks, and abnormal brain functioning. At the time of trial, her medical bills and wage losses were estimated at $298,759. However, the plaintiff was on long-term disability, and required long-term pain management for her physical injuries, as well as five years or more of psychological treatment, which increased the amount of compensation.
Generally speaking, motor vehicle accidents tend to see smaller payouts between $10,000 and $180,000, while commercial truck accidents, premises liability settlements, and business liability cases range between $50,000 and $800,000. These are all just ballpark estimates and in no way guarantee what a plaintiff can expect, as each case has its own unique merits.
Speak with a herniated disc injury lawyer in California
The best way to come up with a realistic expectation regarding your herniated disc injury settlement amount is to contact the Ellis Injury Law Firm for a free legal consultation. With more than 20 years of settlement negotiation and trial experience under our belt, not to mention over $350 million recovered for our clients, we offer some of the best legal representation in the Los Angeles area. We work on contingency basis, so legal fees are only due if we take your case and win it.
Additional "herniated disc injury lawsuit" resources: