Who is Liable when a Bicycle Hits a Pedestrian?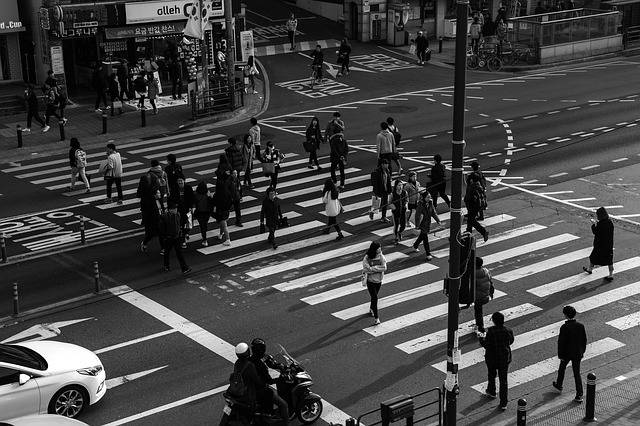 Los Angeles, California is a relatively dangerous place for pedestrians, compared to the rest of the country. A University of Michigan study on all types of traffic collisions found that 32 percent of fatal crashes in LA involved pedestrians – 10 percent higher than the national average. Most serious pedestrian accidents involve collisions with motor vehicles, but there are still incidents where bicycles strike pedestrians in Los Angeles.
The average bicycle commuter travels at 10 miles per hour, but fitness cyclists can get up to nearly 20 miles per hour. At that speed, the risk of death for a struck pedestrian could be as high as 10 percent. Serious injuries in pedestrian/bicycle collisions include: fractures, concussion, head trauma, internal injuries, spinal cord damage, crushing injuries, burns, deep lacerations, severe cuts, shock, and post-traumatic stress disorder. Working with a California pedestrian accident lawyer can help you establish liability and seek just compensation for your injuries.
How often do bikes hit California pedestrians?
There isn't a ton of data, but from what we can tell, pedestrian/bike collisions are relatively rare. One state-specific study found that just 0.9% of pedestrian injuries (9 incidents) involved a person on foot colliding with a bicyclist, resulting in injuries significant enough to require treatment at a California medical center. However, that same study found hospital discharge data citing 111 pedestrian and bicyclist injury cases.
Other reports have found that these incidents are significantly underreported. Hunter College professors looking at accidents in New York City say there were more than 500 badly injured pedestrians struck by bicycles in NYC each year. Statewide, the figure was closer to 1,000.
Another analysis by Peter Tuckel and William Wilczarski cited a figure of "1,000 pedestrian/cycle accidents treated annually nationwide" – but researchers admitted that they had only hit "the tip of the proverbial iceberg" because their data did not include injuries treated in doctor's offices or walk-in urgent care clinics.
Compared to a pedestrian's 12% chance of being struck by a motor vehicle, the relative risk of injury for bicycle collisions is low. Of course, statistics mean little when you're the injured party.
Elderly woman struck by hit-and-run cyclist in Glendale, CA
One high-profile felony hit-and-run occurred on October 8, 2016 when a 64-year-old woman was crossing at a marked crosswalk, attempting to enter the shared-use LA River Path at Brand Boulevard and Caruso Avenue in Glendale. The speeding cyclist blew through a red light, knocked the woman down, and kept going. The victim was transported to the hospital with significant head and facial injuries that required surgery and a prolonged hospital stay.
LA pedestrian needs surgery after collision with cyclist
Two years earlier, an elderly woman was struck by a cyclist on the same path. The cyclist stopped to render aid, but the woman had to undergo surgery to repair her broken arm. Though signs, rumble strips, and pedestrian-only paths were added to the park, there's no guarantee people will heed the warnings.
In NYC, Central Park fatality highlights danger of cyclist/pedestrian crashes
The wife of a CBS executive was struck and killed by a cyclist in Central Park in September 2014. The man who hit her slowed down for one set of traffic lights, but sped through a red light while using a fitness app before hitting the victim, who was placed on life support, and died after three days in the hospital.
Proving liability when you're struck by a cyclist
To prove a bicyclist's negligence, your attorney could pursue several different angles to show that:
You were lawfully on a sidewalk or in a crosswalk when the bicycle hit you.
The bicyclist was distracted at the time, while texting, talking on the phone, using a fitness app, etc.
The bicyclist was speeding above the posted speed limit (which can happen in an under-30 zone!)
The bicyclist was violating a park ordinance, such as riding in the wrong direction.
The bicyclist failed to act "in a reasonable and prudent manner" while riding.
Typically, local municipalities are not considered liable for a pedestrian/bicycle accident. Victims and/or families can sue the individual cyclist to cover medical expenses and other tangible financial losses, pain and suffering, and (in the worst cases) wrongful death. A lawsuit is most often paid out of the cyclist's personal assets, wage garnishes, or homeowner/renter's insurance.
How a California pedestrian accident lawyer can help
A Los Angeles pedestrian accident lawyer can help you gather the evidence you need to prove your claim when it's he said / she said. If you do not know who struck you, a legal team can work with police investigators to discover the identity of the perpetrator. Attorneys compile photos of the accident scene and your injuries, track down witness statements, assess police reports, comb through local ordinances and laws, and offer the best advice for legally pursuing compensation. Even before you contact the insurance company, talk to The Ellis Firm in Los Angeles for a free case review. You pay us nothing unless we take on your case and win.
More on "bicycle-pedestrian accidents":