LAPD Cruiser Crashes En Route To Chase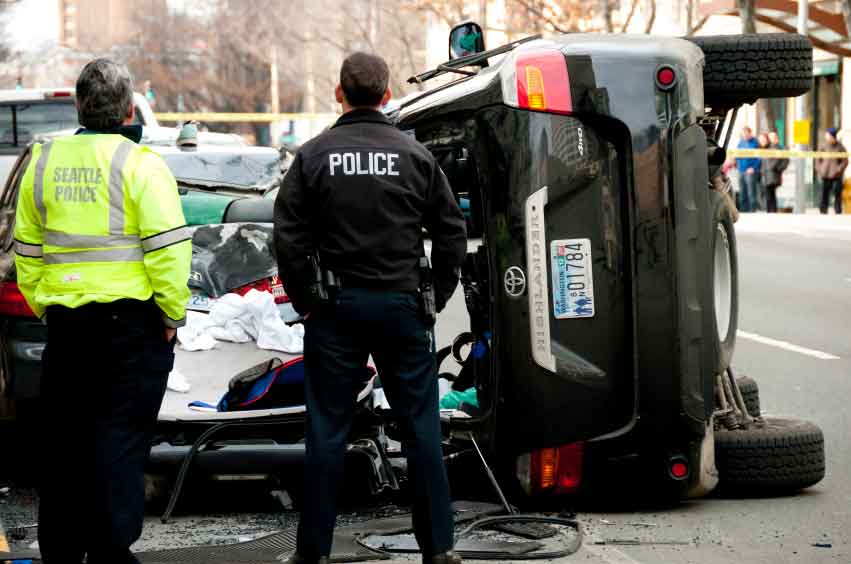 Two Los Angeles cops en route to a police chase in Jefferson Park on the night of February 2, instead ended up at the hospital after being injured in a three-car accident. The officers were planning to back-up police in pursuit of a fleeing vehicle when they were involved in the crash at Crenshaw Boulevard at Exposition Boulevard.
According to reports, the officers were traveling in the same cruiser on the way to a police chase of a stolen car. The cruiser hit a silver SUV before spinning out, hitting a four-door sedan, and coming to rest in the street. The occupants of the SUV and sedan were not injured but the two officers were taken to the hospital in serious but stable condition. The hospital released them on Wednesday morning.
LA leads California in police chase crashes
Though the accident in Jefferson Park happened before the officers reached the flight scene, it nonetheless highlights the risk of police chases. Los Angeles County leads California in deaths from high-speed chases. Since 1979, there have been over 400 deaths from police pursuit. More than half of the victims were passengers or innocent by-standers.
There has been a strong push to change the laws to drastically limit when and how the police may chase a fleeing suspect, including the defeated Kristie's Law. But police groups have fought changes vigorously, arguing that anyone who would flee from the police on a minor stop has something more serious to hide. Statistics do not back this up, however; only 13 percent of fleeing drivers end up being arrested for illegal weapons or serious crimes.
Liability in police crashes
American laws recognize the rights of injury victims to be compensated for their losses but it is a more complicated process when one of the parties is related to the city, state, or federal government.
California police have limited governmental immunity, which makes it more difficult – but not impossible – for innocent bystanders to recover compensation for their injuries from a police chase. The California Vehicle Code provides a police department with a process to shield its officers with governmental immunity from civil liability for injuries during police chases.
Some of the things a court will consider are whether the police acted reasonably in light of public safety, personal safety, the type of offense that the suspect committed, the likelihood of apprehension later, and how safe the road conditions were.
Personal injury lawsuits filed against the police in California also come with other restrictions including a shorter statute of limitations period than private defendants and special procedures to follow.
Liability of fleeing suspect
The police are not the only potentially liable parties in a chase.
The suspect in an ongoing chase may also be liable under several theories including:
Negligence – if the suspect breaches the general duty of care by driving recklessly
Negligence per se – if the suspect breaks a law that is intended to keep the public safe, such as a speed limit
If you have been injured in a car or pedestrian accident, Ellis Law attorneys will help you understand your legal options and rights to damages. Call 310-641-3335 for a free case evaluation with a seasoned Los Angeles personal injury lawyer .