Negligent Drivers Cause Accidents on LA Roadways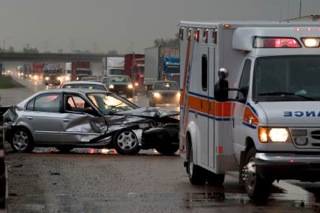 As Los Angeles isn't known for having a robust public transportation system, driving is the main way Angelinos get around town. Unfortunately, some drivers fail to keep their focus on the road, which has resulted in some major accidents lately ─ including one that caused the death of a child.
On August 14, a 5-year-old girl was killed on the Pomona (60) Freeway, after a milk tanker traveling westbound failed to slow for stopped traffic shortly after 5:40am. The tractor-trailer jackknifed into oncoming traffic near Santa Anita Boulevard in South El Monte.
A total of nine vehicles and two tankers were involved in the crash that ultimately caused two vehicles and the milk truck to catch fire. Four people sustained critical injuries and another 10 suffered minor to moderate injuries.
The accident caused a massive amount of wreckage, spanning the length of two football fields. Firefighters were forced to push the milk tanker over, to keep it from falling onto cars traveling westbound on the freeway. As a result, more than 100 gallons of diesel fuel and 6,500 gallons of milk were spilled on the freeway, causing it to be shut down to all traffic for a period of roughly four and a half hours. Three of the five lanes on the freeway reopened to traffic around 10:15am.
The driver responsible for the deadly crash that killed 5-year-old Maydeline Salas worked for Orozco Trucking ─ a company that has had three collisions over the past two years.
Careless drivers causing more accidents on LA roads
On August 16 a power pole in Malibu was knocked down by an alleged hit-and-run driver. The incident occurred on busy Malibu Canyon Road, around two miles from the Pacific Coast Highway.
More than 3,000 Southern California Edison customers were left without power, which also caused traffic lights to go out on the PCH. The southbound lanes at Malibu Canyon Road and Mulholland Drive, in addition to the northbound lanes of Malibu Canyon Road and Seaver Drive, were closed while authorities investigated the incident and cleared the wreckage.
The accident caused major delays and subsequent headaches all day for drivers in Malibu, as there aren't many alternative routes to get around.
Los Angeles truck accident lawyer
If you or a loved one has been the victim of an automobile accident in Los Angeles, you need someone to fight for your rights. It's important for the driver who caused the accident to be held responsible for it. The cost of the necessary medical treatment can add up fast ─ especially if you're unable to work due to your condition.
The LA car accident attorneys at Ellis Law are here to help. We have a long history of fighting for the rights of car accident victims, allowing you to receive the compensation you deserve.
A skilled Los Angeles truck accident lawyer from our team can provide an honest evaluation of your case, to see if further legal action should be taken. Call 310-641-3335 to schedule your complimentary consultation today.