Los Angeles Wrongful Death Attorney News: Car Accident Turns Fatal on Highway 99 in Los Molinos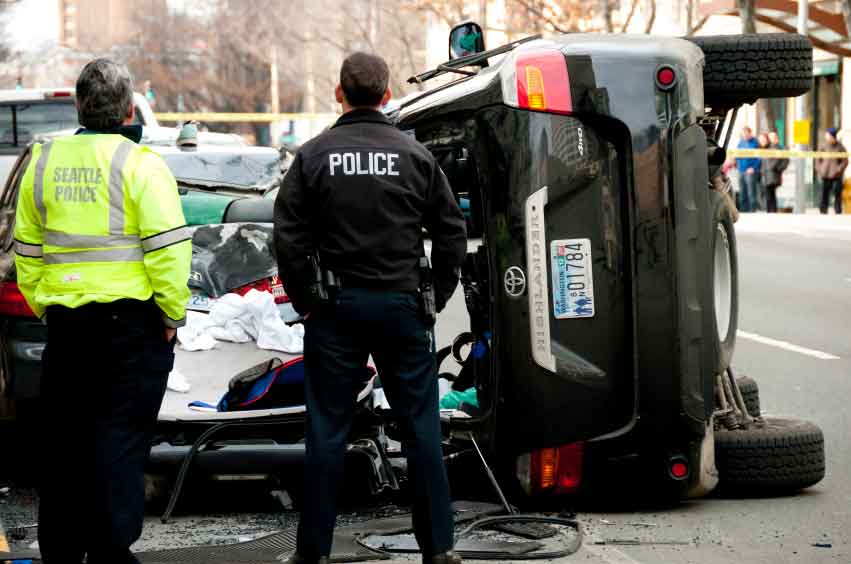 BREAKING NEWS: California Highway Patrol is investigating a car accident in Hawthorne that sent a police sergeant and another driver to the hospital early his morning. Authorities say the crash involved a police cruiser and a Honda that collided shortly before 2 a.m. Wednesday in the Los Angeles suburb. CHP officer Robert Manzano told KPCC's Ashley Bailey that there is no word yet on how fast either car was going — the police car was heading down El Segundo Boulevard while the other car was pulling out of an alley. Manzano said the Honda driver was ejected and that she's in surgery at Harbor-UCLA Medical Center. El Segundo Boulevard will be closed until about 10:00 between Doty and Kornblum avenues. AP reports the car  — which came to rest against a wall in front of a home — was torn nearly in half. The police sergeant, they say, was given a neck brace and taken away on a gurney.  It was not known whether the police car had its siren and lights on.
Wrongful Death
DO YOU HAVE QUESTIONS ABOUT A WRONGFUL DEATH LAWSUIT?
Our lawyers are here to help you find answers. Call our Los Angeles car accident attorneys at 310-641-3335 or contact us online for a free consultation to discuss your potential case. What is a wrongful death? As a legal term, it is a death that has been caused by the fault of another person. For example, deaths caused by drunk driving, a dangerous or defective product, the construction of an unsound structure or building, nursing home negligence, or failing to diagnose a fatal disease may be considered "wrongful deaths" under the law. If your family has recently lost a loved one as a result of someone else's negligence, it is best to contact a wrongful death attorney to discuss your legal options.
HOW DO YOU CHOOSE A LAWYER TO HANDLE YOUR CASE?
We understand that families may not know where to turn after the sudden or unexpected loss of a loved one. When choosing a wrongful death lawyer, it is crucial that you look for a law firm that has both the experience and resources needed to litigate even the most complex wrongful death lawsuits. Since 1992, our lawyers have recovered millions in wrongful death verdicts and settlements for families in Los Angeles.
Our outstanding results have earned us the reputation as one of the top wrongful death firms in Los Angeles, along with the respect of both our adversaries and peers. We are proud that many of our colleagues in Los Angeles and throughout the country feel confident referring their clients to us for all types of complex accidents or malpractice death cases.
WHO CAN FILE A WRONGFUL DEATH LAWSUIT?
Wrongful death lawsuits or claims are generally filed by family members or beneficiaries of the person who died. When you contact us, our Los Angeles wrongful death lawyers will help you to determine who in your family may file the wrongful death lawsuit. In some instances, these claims are filed to obtain monetary damages to cover the earnings the deceased person would have provided. Other damages that may be recovered include:
Expenses associated with the death, such as medical and funeral bills
Lost benefits, such as insurance, from the death
Loss of inheritance from an untimely death
Pain, suffering or mental anguish suffered by the survivor of the decedent
Loss of companionship, care or protection
Punitive damages, intended to punish wrongdoers and prevent them from harming others
CONTACT A WRONGFUL DEATH ATTORNEY AT OUR FIRM
If you believe that your loved one has suffered a wrongful death, you may be entitled to compensation. We are here to help you recover the compensation you deserve. Call us at 310-641-3335 to speak with a Los Angeles personal injury lawyer. You may also contact us online through our website to set up a case evaluation consultation with an experienced wrongful death attorney.