Los Angeles Uber Accident Lawyer
If you were hurt or lost a loved one to an Uber accident, it is important to contact an experienced Uber accident attorney like those at Ellis Law. Our Uber accident attorneys offer a complimentary consultation to advise you whether you are eligible for a settlement or monetary award under California law from Uber or any other at-fault party.
Uber is a prevalent mode of transportation. However, as with any other vehicular mode of transportation, accidents happen. The stress of a car accident can be multiplied when dealing with the policy rules, limits, and restrictions associated with Uber. Do not try to handle one of these complex claims on your own.
At Ellis Law, we understand how frustrating and scary it can be when you or a loved one is involved in an accident. We will do everything in our power to ensure that this process is as easy as possible for you. We will help you from start to finish. As an experienced Uber accident attorney in Los Angeles, you can count on our expertise to get you the best results for your case.
The Uber accident attorneys at Ellis Law offer:
Skilled legal guidance from the beginning to the end of your claim.

We will handle every aspect of your claim, from investigating your case, to negotiating or taking your case to trial if necessary.

Aggressive representation to protect you from Uber and their insurance company.

If you or a loved one was in an Uber accident, you should always consider contacting a lawyer right away. If you try to negotiate with Uber or an insurance company, they will likely try to take advantage of you. Having legal representation will show them you're serious, and they will have less power over you.

The responsiveness and ability to answer tough questions you expect from a top-notch law firm.

If you ever have questions about your case, we are here to help. We want to make sure you're updated about your case and know exactly what's going on each step of the way. 
Contact an Uber accident lawyer in Los Angeles to learn more about our law firm and the many services we offer our clients. Your call is confidential, and our attorneys are prepared to start representing you today. We provide a free Uber accident lawyer consultation to help you determine if you should pursue your case.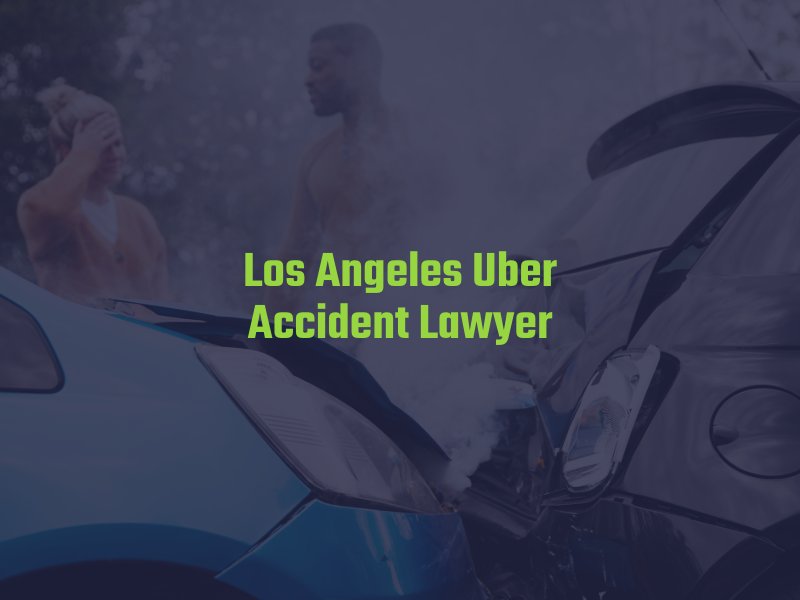 How an Uber Accident Attorney Can Help You
Uber accidents can involve multiple insurers and liable parties. Uber alone will have a team of attorneys working on their side to minimize any insurance claim payouts. To get the compensation you deserve, you need a legal team on your side experienced in Uber accident litigation. Attorneys that handle these types of issues for Uber have one job – to make sure as little money as possible is paid out. They often accomplish this by intimidating people into dropping their claim or making very low settlement offers that many people are tempted to take, especially when they don't have legal representation to discuss the offer with.
At Ellis Law, our Uber lawyer in Los Angeles will work tirelessly to build a strong case for your recovery. We will provide you with the support and representation you need throughout the claims process and do the following:
Investigate your Uber accident.

This includes speaking with witnesses, looking at the accident scene, consulting with an expert witness if necessary, and getting your side of the story.

Collect any necessary evidence.

We will help you obtain your medical records, police reports, any video footage that might exist, and anything else relevant to your case. The sooner you contact us, the better, as video footage often is erased, especially if no one knows that the footage is needed.

Advise you about your legal options. Having an experienced Uber accident attorney in Los Angeles on your side will be very beneficial, especially if you've never had to deal with this type of situation before.

Negotiate with any insurance companies for you.

If you try to negotiate with an insurance company on your own, it's likely that they will try to take advantage of you. They have their own best interest in mind, not yours.

If necessary, represent you in court before a judge and jury.
Retaining Ellis Law for your Uber accident claim enables you to spend time recovering from your injuries while we represent your interests. Call or contact us in Los Angeles today for answers to your most pressing legal questions.
Causes of Uber Accidents
Uber accidents are a type of car accident. Therefore, they share the typical causes of car crashes such as speeding, distracted driving, intoxicated driving, and failure to obey traffic signals. However, Uber drivers are in a unique situation and are prone dangers not typical to other drivers, such as the following:
Uber drivers usually have no particular experience transporting passengers.

To sign up as a driver for Uber, you generally just need to meet certain criteria for the car you're using, pass a background check, and have a relatively clean driving record. In many cases, the only requirement about driving experience is that you must have had your driver's license for at least one year. 

Uber drivers use applications that take their attention off of the road and can result in a distracted driving accident.

It's not uncommon for your Uber driver to check their phone constantly throughout the trip to ensure that they're going in the right direction. Many Uber drivers don't even have a holder for their phone, so they have to drive with one hand while using their phone in the other.

There is no set workday, allowing Uber drivers to work excessive hours over 24 hours.

No matter how tired someone is or how long they've been working for, a person can drive all night if they choose to.

A regulatory agency does not routinely inspect Uber drivers' vehicles for passenger safety.
Uber Insurance Policies
All Uber drivers must carry their own car insurance policy to work for Uber. Additionally, Uber maintains a $1 million liability policy for any accidents that occur when drivers use their vehicle for a rideshare trip. The $1 million in liability coverage only applies when the Uber application is on and used for a rideshare trip.
The $1 million in coverage does not apply when the Uber application is turned off. When the application is off, only the driver's insurance is in force. When the Uber application is on, and the driver's status is "available," Uber has contingent insurance that applies.
Receiving compensation from Uber is easier when a driver has their application on and has a client in the car.
Statute of Limitations
If you or a loved one was involved in an Uber accident and believe you have a legal claim and are owed compensation, you must file your claim by a certain deadline, known as the statute of limitations. Typically, the statute of limitations for car accident cases in California is two years. This means you must file a claim or lawsuit within two years of the date of the accident. 
In some circumstances, the statute of limitations is different. For example, if you were a minor when you were involved in the accident, the timeline will likely be extended. In order to make sure you don't miss the deadline, contact an Uber accident lawyer in Los Angeles right away. Two years might sound like a long time, but the sooner you consult with a lawyer, the more likely they are to be able to collect all of the necessary evidence. Most surveillance video – whether it's from a dash cam, a store, or a house – disappears after a small period of time, often 30 days. If you wait too long to call a lawyer, you could end up missing out on crucial evidence that would have been favorable for your claim.
Who to Sue – Uber or the Driver?
In California, you may be permitted to sue Uber if you were in an accident with one of their drivers. You can also sue the driver personally. However, it can be a bit complicated to successfully file a lawsuit against Uber since their drivers are considered independent contractors. Fortunately, Uber has $1 million of underinsured motorist coverage, which often helps pay for damages when an Uber driver is involved in an accident with another driver and the other driver is at fault. 
In some instances, you might be able to argue that Uber was somehow at fault for employing a driver who ends up causing an accident. Were they negligent in hiring this driver? Did they fail to check the worker's driving record? If you can pinpoint something specific Uber did that could cause them to be responsible for the accident, you have a better chance at successfully filing a lawsuit against Uber for something one of their drivers did. 
Hiring an experienced Uber accident attorney in Los Angeles is vital in a situation like this, given the complications of collecting any compensation from Uber itself. This is especially problematic if the Uber driver doesn't have enough insurance to cover your injuries.
Third-Party Claims
In some circumstances, it's possible that neither Uber or the actual driver is responsible for your injuries. If the accident occurred because of another driver's recklessness or negligence, you may be better off filing a claim against the driver that actually caused the accident or their insurance company. Who you decide to file a claim against is something that an experienced lawyer can help you with. It's also possible to file a claim against multiple different people.
Compensation You Can Recover
If you are in an accident while being driven in an Uber, you may be eligible for compensation. How much compensation you're entitled to depends on what kind of injuries you've suffered and how severe they are. In most cases, you may be eligible for the following types of damages:
Economic Damages
Economic damages refer to compensation you receive as a result of injuries you've sustained or income you have lost or will continue to lose because of the accident. Examples of economic damages include medical expenses, lost income, cost of future treatment or rehabilitation for severe injuries such as spinal cord injury, future lost wages if you're unable to go back to work (or the difference between your old salary and your new salary if you're unable to return to your position because of the accident), compensation to replace or repair any property that was damaged in the accident, and funeral and burial expenses in the case of wrongful death as a result of the accident. 
Non-Economic Damages
Non-economic damages are those that are much harder to quantify into monetary terms. Non-economic damages include pain and suffering, mental anguish, loss of consortium, loss of a use of a particular limb or body part in some circumstances, and loss of companionship in cases where a loved one doesn't survive the accident. 
Punitive Damages
Punitive damages are awarded as a way to punish and deter the defendant(s) from engaging in this type of behavior in the future. In order to receive punitive damages, you must prove at trial that the defendant's conduct was grossly negligent or intentional. 
Comparative Fault
In some states, you're unable to recover any compensation if you were even slightly at fault for the accident. In California, this isn't the case. Car accident cases are governed by comparative fault. If there is a determination made that you were partially at fault for the accident, any compensation you receive at trial will be reduced by the percentage you were found to be at fault. For example, you were awarded $100,000, and were considered to be 30 percent at fault. You would receive 70 percent of the award, or $70,000.
Contact an Experienced Uber Accident Attorney
If you or a loved one was involved in an Uber accident, call the Uber lawyers at Ellis Law. We will discuss Uber's potential liability with you and the possibility of pursuing a claim against Uber and any other liable parties.
There are time limits to file an Uber or Lyft claim in California, so do not hesitate to call Ellis Law today. Investigating your accident and determining Uber's responsibility can take time. The sooner you contact the Los Angeles personal injury lawyers at Ellis Law, the faster we can claim compensation on your behalf.