Damaged Sidewalks Still a Major Hazard in Los Angeles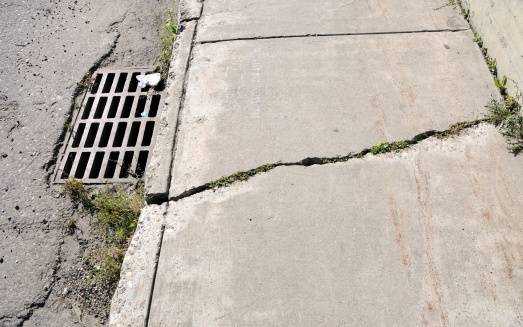 The Los Angeles slip and fall lawyers at Ellis Law have raised the alarm about the broken sidewalk problem in L.A. for some time. In addition to the challenges they pose to the disabled and elderly, the widespread problem of damaged walkways has become a safety hazard for all Los Angeles residents trying to get around the city on foot or bicycle. While a landmark legal settlement is forcing L.A. to produce funding to pay for the problem, the epidemic may be too widespread for city officials to address in any sort of timely fashion.
Settlement involves $1.3 billion
The L.A. Times reports that the city has agreed to spend $1.3 billion over the next 30 years to tackle their broken sidewalk problem. The agreement was created to resolve a lawsuit filed on behalf of disabled L.A. residents, who claimed the damaged sidewalks were making it impossible for those with mobility impairments to get around the city. Plaintiffs cited violations of the Americans with Disabilities Act as grounds for their legal action.
The proposed settlement was agreed to by the Los Angeles city council and requires the city to spend $31 million each year to repair sidewalks, beginning in 2016. That annual amount would increase gradually to $63 million to adjust for rising repair costs. The source of funding is not specified in the settlement agreement, which gives the city flexibility in finding money for the project.
Broken sidewalks a long-standing problem
The broken sidewalk problem has plagued residents of L.A. for decades. Much of the damage is the result of tree roots growing close to the surface and breaking up the concrete. Residents living near the broken sidewalks claim the problem belongs to the city government, since it is responsible for planting many of those trees. However, city officials have countered, saying homeowners have also been guilty of planting some of the problem trees.
According to the Bureau of Street Services, around 40 percent of the walkways in L.A. are in need of repair. The price tag for those repairs was once estimated to be $1.5 billion, but some city officials have said that estimate is not necessarily accurate. One thing is for certain; the sidewalk issues in Los Angeles have been a headache for residents and local government officials for a very long time
Liability in sidewalk accidents
The question of liability has been raised from both local officials and residents dealing with the broken sidewalks in front of their own properties. If an accident occurs, injured victims are not sure whether to pursue a Los Angeles sidewalk fall lawsuit against the homeowner or the city. Determination of liability can be a complex process that requires expert legal representation to navigate.
At Ellis Law, our Los Angeles slip and fall lawyers understand the complexities of the law regarding premises liability. We also recognize that damaged sidewalks have been an ongoing hazard for pedestrians, passersby and bicyclists for many years. We work hard to help victims of slip and fall accidents get the legal compensation they need to pay for medical treatment, time off work and other non-economic losses.
If you are the victim of a slip and fall accident due to damaged sidewalks in L.A., our legal team is ready to help you. Contact Ellis Law at 310-641-3335 for a free evaluation of your case. There is a statute of limitations on slip and fall lawsuits in California, so call as soon as possible to learn more about your legal options.