Los Angeles Motorcycle Accident Attorney
Motorcycle accidents can leave you with catastrophic injuries and place a burden on you and your family mentally, emotionally, and financially. You may be struggling to manage your medical bills, pay for property damage, and make ends meet.
If you are unsure where to turn for help after your motorcycle accident, call Ellis Law. We understand that your first thought after an accident might not be about lawsuits and which motorcycle personal injury lawyer in Los Angeles to choose. There's a lot to process emotionally. At Ellis law, we aim to help you get the justice and compensation you deserve. We will make it as stress-free as possible for you and take you through each step of the process.
At Ellis Law, our experienced motorcycle accident lawyers in Los Angeles are:
Fierce advocates for the compensation you need both now and in the future;

Experienced and knowledgeable in all areas of motorcycle accident law; and

Aggressive settlement negotiators and courtroom litigators who will fight for your best interests at all times.
If you were seriously hurt or lost a loved one to a motorcycle crash, you should not have to pay for another driver's negligent or reckless behavior. Let Ellis Law pursue the compensation you and your family deserve. Our legal team will provide the support you need to get your life back after a severe motorcycle accident.
Contact Ellis Law now to schedule a no-obligation consultation with a motorcycle accident injury lawyer in Los Angeles. We will address your most pressing motorcycle accident questions and concerns and help set your mind at ease about your situation.
A Los Angeles Motorcycle Accident Attorney Can Help
When you retain a motorcycle attorney in Los Angeles, you can feel confident that you have a skilled, experienced legal team by your side throughout your motorcycle accident case. Our attorneys will listen to the facts of your case, take the time to understand your legal goals, and personalize a case strategy to fit your needs. Ellis Law wants to do what is best for you and your future.
You can trust our experienced motorcycle accident attorneys to do the following and more on your behalf:
Investigate your motorcycle accident

. This might include finding witnesses who saw the accident and can testify on your behalf, recovering video footage from nearby stores or bystanders, and taking photos of the accident scene

. 

Identify who is legally responsible for the accident. We use several techniques and tools to determine the responsible party, including recovering video footage if available and, in some cases, hiring an accident reconstruction expert who can recreate the scene to determine liability precisely.

Assess your injuries. How much compensation you're entitled to will depend greatly on what kind of injuries you've suffered and the type of treatment you need now and in the future.

Identify all insurance coverage applicable to the accident and your injuries.

Make any referrals for medical care.

If you're not sure which medical professionals to see, we can help. In some circumstances, the defense may request that you get an independent medical examination. We can assist you in setting this up and walk you through what to do next. 

Help you retrieve your property if necessary.

Notify creditors of the accident and status.

Calculate the past, current, and projected costs and losses from the accident. This usually includes lost wages, medical expenses, and any future costs for treatment or rehabilitation, including help if you have significant pain and suffering or other non-economic damages.

Consult with experts to determine your likely medical or life-care needs and their costs. We have medical experts that we regularly use for negotiations and at trial. We will obtain your medical records and discuss the case with our experts to determine what kind of care you need and how much compensation you may be entitled to.

File claims with insurance carriers

Aggressively negotiate for payment of maximum compensation. The vast majority of personal injury cases and motorcycle accident cases are settled before they get to trial. We will do everything in our power to negotiate the best settlement offer possible. Settlements are generally quicker, less stressful, and less expensive, so that they can be a beneficial alternative to a trial.

File a personal injury lawsuit against any liable party that refuses to negotiate a proper settlement.

Present a solid and persuasive case in court, if required. While it's true that the vast majority of personal injury claims are settled before they get to court, all of our attorneys are skillful and dedicated litigators. We are always prepared to take your case to trial if the defendant is unwilling to make a reasonable offer.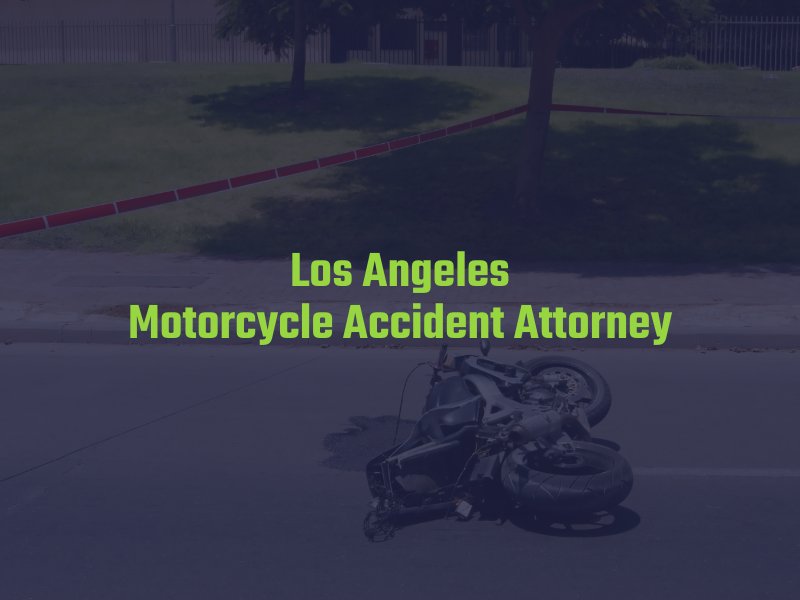 What To Do – And What Not To Do After A Motorcycle Accident
If you've never been in an accident before or had to file a personal injury lawsuit, it can be confusing to determine the exact steps you should take. Many people inadvertently do or say things that end up hurting their case. Our motorcycle accident injury lawyers in Los Angeles want to be sure you don't make any of the most common errors that some people make after motorcycle accidents.
The following is a non-exhaustive list of a few essential things you should not do right after an accident.
Do not make any recorded statements or sign any documentation from an insurance company without speaking to a motorcycle accident lawyer in Los Angeles. Your words could be used against you in your claim, and you could sign away your right to any future compensation for your injuries. This means you don't want to hurriedly accept any settlements from the insurance company! They often try to make a speedy, low settlement offer, so the case is resolved as quickly as possible.

Don't speak to anyone else involved in the accident, and don't admit fault in any capacity. This includes apologizing. Even if the other driver is injured, it's important not to say anything that can be misconstrued as admitting that you were responsible – even partially – for the accident. Silence is the best plan.

Don't rush into repairing your car if there is damage. While it's understandable to want it taken care of as soon as possible, it's essential to ensure all damage is appropriately documented. This means more than simply taking photos or even getting an estimate from your mechanic. If the claim ends up in court, it's crucial to have everything done correctly. When you contact Ellis Law after an accident, we can assist you with the necessary and proper documentation of what occurred.
On the other hand, there are essential steps you should take after any accident to ensure you have the best chance of success should you decide to file a personal injury claim.
Document as much as you can. After an accident, take photos of the scene – any stop lights, traffic lights, objects in the road, or anything else that you think is relevant to the accident. Additionally, take photos of your car and any other cars involved in the incident. If you have visible injuries, take photos of those as soon as possible

.   

Seek medical attention if needed. It might even make sense to see a medical professional proactively – just in case you might be injured. Getting medical attention as soon as possible is essential if you've been in a serious accident. Even if you don't have visible injuries, getting checked out is still a good idea. Some injuries may not show up immediately, such as delayed onset whiplash, and others may not be visible to you, including concussions and other brain injuries. Medical records will be critically important if you decide to file a personal injury claim in the future.

Take notes. Write things down. Take photos with your smartphone. Document how you're feeling and everything you remember about the accident. If you file a lawsuit and it goes to trial, it could be years before the case actually gets to court. While you might think you will remember everything that happened and everything that you're feeling, memories fade and witnesses disappear. It's a good idea to write it all down. After an accident, adrenaline is flowing, and there's often a lot of chaos, so, understandably, your memory of the accident might not be perfect months or years after the incident.

File your claim on time.
Statute Of Limitations
There is a deadline, or statute of limitations, to file a motorcycle accident case in California. Any motorcycle accident case must be filed within two years of the date of injury. If the complaint is not filed on time, a victim's claim for damages is barred.
Exceptions
In some cases, there are exceptions to the two-year statute of limitations. Your motorcycle attorney in Los Angeles can advise you whether exceptions apply.
Discovery
If the injured party did not discover the injury until much later, and they were unaware of any facts that would lead a reasonable person to believe they suffered an injury, the statute of limitations could be extended. If you were in a motorcycle accident and realize at a later date that you have an injury, don't assume that it's not allowed just because the two years has passed. Ellis Law can help you determine if you've missed the deadline.
Minors
If the victim who was injured in the motorcycle accident is under the age of 18, the statute of limitations is different. Generally, the statute of limitations won't start to run until the injured party turns 18. Then, they will have two years from that date.
Responsible Party Leaves The State
If the person who allegedly caused the accident leaves the state after the accident and before a lawsuit can be filed, it's possible that the deadline to file your claim could be extended.
Set up your consultation with our motorcycle accident attorneys today, and let us review the details of your case. The sooner we begin work on your claim, the faster we can secure compensation for you and your family.
Causes of California Motorcycle Accidents
California's climate lends itself to motorcycling. However, riding a motorcycle is riskier than driving a car due to the motorcycle's instability and lack of safety protection. Motorcycle riders have only their clothing and helmets to protect them from impact with the grounds or another, much larger vehicle.
Unfortunately, California has one of the highest rates of accidents involving motorcycles in the United States. Motorcycle accidents typically involve a passenger car. Some of the most common causes of motorcycle and passenger car accidents include:
Unsafe speeds;

Improper acts or movements;

Tailgating;

Inattention;

Driving under the influence of drugs or alcohol;

Failing to yield;

Unsafe vehicles; and

Failing to stop.
Motorcycle Accident Injuries
Although it is impossible to control the actions of other drivers, taking precautions like wearing a helmet and appropriate clothing while riding a motorcycle can reduce the risk of some injuries. Complying with traffic laws is also essential to safe riding.
Lower body injuries compose around 30% of all motorcycle accident injuries. This is in part due to the use of motorcycle helmets. Wearing a helmet while riding a motorcycle reduces the risk of death in an accident by 37% and the risk of a head injury by 69%.
Common injuries that occur in a motorcycle accident often include the following:
Mild to severe head and brain injuries, from concussions to traumatic brain injury (TBI);
Back injuries and spinal cord injuries like broken vertebrae and paralysis;
Multiple fractured and broken bones;

Chest and shoulder injuries;

Foot and knee injuries;

Eye injuries;

Frictions burns, also known as road rash; and

Scarring and disfigurement.
Motorcycle Accident Compensation
Motorcycle accident injuries may require years of medical expenses, surgeries, and medication. They can completely upend a victim's life and sense of normalcy. Victims of motorcycle accidents can typically recover compensation for their economic and non-economic damages.
The amount of compensation a victim receives depends upon the type and severity of their injuries, their prognosis for recovery, and the overall effect of the accident on the victim's life. Motorcycle accident compensation may include the following types of damages:
Economic Damages
Economic damages are ones that can be objectively quantified in monetary terms. Primary examples of economic damages include the following: 
Past medical expenses

Future medical bills

Prescription costs

Rehabilitation costs

Lost wages

Funeral and burial expenses.
In California, there is no limit on the total compensation you can recover for economic damages. This means the jury can award any amount they see fit to cover your medical expenses, lost wages, and any other types of economic damages. 
Non-economic damages refer to compensation that is awarded and cannot be quantified in monetary terms, including the following: 
Pain and suffering

Emotional or psychological treatment expenses
Punitive Damages
Punitive damages are generally awarded as a way to punish the defendant and deter them and other parties from engaging in similar behaviors in the future. In California, punitive damages can be awarded in personal injury cases only if the plaintiff can prove by clear and convincing evidence that the defendant's conduct amounted to malice, oppression, or fraud. 
Malice
Malice is generally defined as conduct that is intended to cause injury to the plaintiff. If you can show that the defendant caused the accident on purpose as a way to injure you, you might be entitled to punitive damages.
Fraud
In the context of a personal injury case, fraud is defined as an intentional misrepresentation, deceit, or concealment of a material fact that is known to the defendant. 
Oppression
Oppression is defined as despicable conduct subjecting a person to cruel and unjust hardship in conscious disregard of that person's rights.
You Can Recover Compensation Even If It's Partially Your Fault
In some states, the victim is unable to recover any compensation if they're even found to be one percent responsible for the accident. In other states, a plaintiff can only recover compensation if they're less than 50 percent at fault. 
In California, the rules are a bit more lenient. California personal injury cases are governed by pure comparative negligence. This means that the plaintiff can recover compensation no matter what, even if they're 99 percent at fault. The amount the plaintiff actually receives will be reduced by the percentage that they are found to be at fault. For example, if a plaintiff is awarded $100,000 and is found to be 60 percent at fault, they will receive $40,000. 
Comparative negligence can be used as a defense as well. If you file a claim against multiple defendants, each defendant has the ability to raise the defense that they were only partially at fault. If one defendant was 20 percent at fault, and the other defendant was 80 percent at fault, the compensation you're awarded should be split between them accordingly. 
Contact an Experienced Motorcycle Accident Attorney
Getting the compensation, you need to pay for motorcycle accident expenses takes the help of an experienced motorcycle accident lawyer in Los Angeles. At Ellis Law, our motorcycle accident attorneys have the determination, drive, and experience needed to fight for your right to maximum compensation for your injuries.
The motorcycle accident attorneys at Ellis Law are tough and relentless but also compassionate. Call us today to schedule your initial consultation with our Los Angeles personal injury lawyers.