Los Angeles Car Accident Lawyers Reflect On Bruce Jenner Accident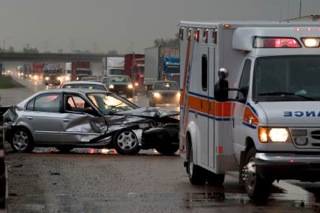 There are so many celebrities and semi-celebrities here in Los Angeles that it's inevitable and even commonplace for the rich and famous to end up in trouble just like anyone else. What makes a celebrity traffic accident case unique is that:
They've got the means to assemble an extensive team of legal consultants
There will be intrusion from the media to contend with, and
Coming out on top requires an understanding of the special type of insurance celebrities carry
The Los Angeles car accident attorneys at the Ellis Law Firm have extensive experience litigating these cases and possess the resources to go up against a well-heeled defendant. We understand that it's as much a battle of public opinion as of hard facts, and we'll make sure your family's name is not dragged through the mud in the process of litigation.
No one should be "off the hook" from responsibility simply for having money or starring in a reality TV show. We are prepared to counter false claims, handle media inquiries, issue public statements, protect your privacy and identity, conduct an in-depth investigation into the facts surrounding the case, and negotiate a settlement offer with the insurance company. Often, these cases settle at a premium prior to a court trial. We deal with celebrity management to put pressure on the insurance company to pay out quickly.
If you or a loved one has been hurt in a car accident in the L.A. area involving a celebrity, don't despair that their bottomless resources will shield them from accountability. Call 310-641-3335 today for an honest, in-depth review of your case and your legal options.
Bruce Jenner car accident
This month, former Olympic decathlon star and reality TV personality Bruce Jenner was involved in a fatal Malibu car accident. Reportedly, a driver with a suspended license put on the brakes of her Prius. She was hit by a Lexus and the Lexus was hit by Jenner's Escalade and pushed into oncoming traffic, where it was hit by a Hummer, killing the driver – 69-year-old Kim Howe – instantly.
While authorities apparently do not believe Jenner was intoxicated or texting while driving, the motorist who hits from the rear is usually determined to be "at-fault" in multiple car pile-ups. Initially, Jenner stated that he was being tailed by the paparazzi, but that was later debunked as a factor in the crash. The investigation is ongoing to determine the exact cause. Typically, "following too closely" is a punishable offense in these cases.
He has publicly called the accident a "devastating tragedy" and extended his sympathies to the family. While apologies and remorse are all well and good, they do not come close to compensating for the loss of a loved one.
Other high-profile celebrity car accidents
Just days after the Jenner accident, Gary Busey wound up in headlines for backing into a woman with his car in a Pavilion supermarket parking lot, also in Malibu. The elderly woman, whose name was not identified, escaped with minor injuries. There is no word yet if the woman plans to press charges.
Back in September, Lindsay Lohan reached an out-of-court settlement with a truck driver after her black Porsche slammed into him on the Pacific Coast Highway in Santa Monica. She lied to police, saying she was in the passenger seat and tried to place the blame on her assistant.
Last year, Bruce Jenner's teenage daughter, Kylie, and his ex-wife, Kris, were sued for a car accident that left a woman with serious neck and back injuries. The three-car-pileup occurred just weeks after Kylie passed her driving test. She was sued for negligence and unsafe speed, among other causes of action.
Ellis Law Firm helps celebrity car accident victims
The experienced Los Angeles personal injury lawyers at Ellis know what it takes to win a lawsuit against a celebrity responsible for a car accident. If you do the crime, you pay the time – or at the very least, compensation for the medical bills and other damages suffered by the injured parties!
Call 310-641-3335 for a free case evaluation with an L.A. car accident lawyer.