Rear-End Collision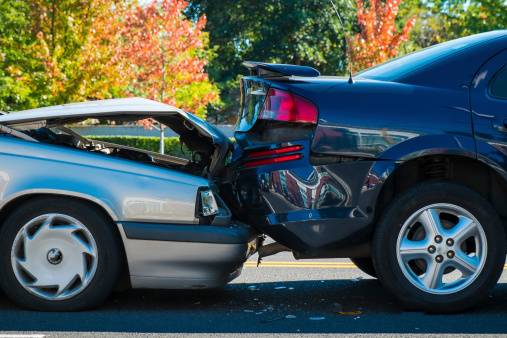 At Ellis Law, our team of Los Angeles car accident lawyers know that one of the most jarring and terrifying automobile accidents in Los Angeles is a rear end collision. Your car is generally stationary at a light or moving slowly in traffic. You may be thinking of your job or family and are completely unprepared for the frightening impact from behind.
The vast majority—80% — of rear end collisions are caused by a driver being distracted and briefly taking his or her eyes off the road.Texting, speaking on a phone, reading road signs, changing the settings on a GPS or a radio, eating or drinking, or just talking to a passenger are common distractions. The majority of rear end collisions in Los Angeles are straight-on with nearly half of drivers in the rear vehicle not slowing down at all.
Life changing injuries in rear end accidents
Severe and life-altering injuries can result from a rear end collision, including:
Head and neck injury
Whiplash
Blood clots
Partial or total paralysis
Lifelong impairment
Of special concern are spinal cord injuries caused by rear ended whiplash. Spinal cord injuries can be physically and financially devastating. Depending on the location and severity of the injury, sensory, motor and involuntary reflexes such as speaking, walking or even breathing may be affected.
It is imperative, after seeking police and medical assistance, that legal counsel be contacted in the event of a rear end collision. Injuries may not be noticeable immediately; head, neck, and brain trauma can surface over time. The injured party may have a right to a rear end accident settlement that covers any and all damages incurred in the collision regardless of when the injury surfaces.
If you or someone you love has been in a rear end collision in LA and suffered harm, contact Ellis Injury Law. A Los Angeles car accident lawyer will fight for your right to monetary damages for medical and rehabilitation expenses, lost wages, pain and suffering, and other losses related to the injury.
Liability in a California rear end collision
In almost all cases, the person found to be at fault in a rear end collision is the rear driver. California rules of the road demand that drivers maintain enough distance from other vehicles to allow them to safely stop without a collision.
However, in California, police will examine the accident scene to determine fault since there is no CA vehicle code concerning rear end accident liability. A police officer looks for evidence of hazardous driving by the rear ended car such as an illegal turn, excessively slow speeds, a sudden stop, or a failure to signal.
If you have been involved in a rear end accident in the front or rear car, retaining legal representation is the best course of action to protect your rights. Ellis Injury attorneys are well-versed in CA car accident laws – we're prepared to fight for your rights and the compensation you deserve.
Compensation for rear end collision injuries
Most rear-end accident claims do not go to trial. Almost all are settled out of court as there is usually little doubt that the rear driver is at fault. The parties will nearly always be able to settle the case before trial without a lawsuit being filed.
Ellis Law Corporation's attorneys have obtained more than $350 million in verdicts and settlements on behalf of clients throughout California. We know these monetary awards can never truly compensate victims for their suffering and loss. However, seeking legal action can provide a sense of justice and help alleviate the expenses, costs, and lost wages brought on by car accidents.
LA rear end accident settlements procured by our firm
Rear end accident settlement:  $1.4 million.  Facts: The plaintiff was stopped at a traffic light in his vehicle. Behind the plaintiff was another vehicle, also stopped. The defendant, in a big rig truck, hit the vehicle behind the plaintiff, pushing it into his vehicle. The plaintiff suffered neck and lower back injuries, requiring surgery.
Rear end accident settlement:  $750,000.  Facts: The plaintiff was driving and came to a stop due to construction on the highway. Behind the plaintiff's vehicle was another vehicle. The defendant, in a truck, did not slow down and collided with the vehicle behind the plaintiff, pushing it into the plaintiff's car. The plaintiff suffered spinal injuries, requiring surgery.
Rear end accident settlement:  $250,000.  Facts: The plaintiff was traveling in his vehicle when the vehicle in front of him came to a halt due to traffic. He came to a stop five feet behind the vehicle ahead of him, but the defendant failed to stop and rear-ended the plaintiff's vehicle. The plaintiff suffered from multiple spinal injuries.
Rear end accident settlement: $125,000.  Facts: The plaintiff stopped for a red light. The defendant collided with the plaintiff's vehicle when the light turned green, and the plaintiff was pushed through the intersection. The plaintiff suffered shoulder, chest, and neck injuries.
Los Angeles car accident lawyer
Ellis Injury Law represents people in Los Angeles County and throughout Southern California who have been injured in rear end collisions. Our team of dedicated attorneys and support staff work tirelessly to achieve the best possible results for our clients. Call us toll-free at 310-641-3335 to set up a FREE consultation to discuss your legal options.