Los Angeles Car Accident Lawyers
A car accident can destroy your life and leave you with serious injuries that affect your ability to work and function normally for weeks, months, or even the rest of your life. Knowing what to do after a serious car accident and who to turn to can be confusing at best; you need a legal professional on your side who understands car accident law in California and how to get you the results you need to move forward with your best life.
At Ellis Law, our Los Angeles car accident attorneys have decades of experience working with car accident victims throughout the greater Los Angeles area and have helped families recover millions of dollars in accident compensation. We provide a car accident lawyer free consultation to help you determine if you have a case. Our car accident injury lawyers in Los Angeles are:
Compassionate and empathetic;
Professional and available to answer your questions;
Successful and aggressive settlement negotiators and trial litigators.
Ellis Law will work tirelessly to help you secure a meaningful financial award from any negligent parties. We have a well-earned reputation in Los Angeles for helping injury victims, and their families recover compensation in both settlements and trial verdicts.
Let Ellis Law protect your legal rights and guide you through the car accident claims process. Call us in Los Angeles today to arrange a convenient time to discuss legal representation and discuss your case in detail. Your initial consultation is complimentary and confidential.
How Can a Los Angeles Car Accident Attorney Help My Case?
It is imperative you seek the assistance of a Los Angeles car accident attorney following any serious car crash. Many car accident victims fall prey to tactics used by insurance companies to devalue, delay, or deny valid car accident claims. When you meet with acar addient attorney in Los Angeles, we will address the many ways our firm fights the challenges and roadblocks insurance companies place in the path of a successful car accident claim.
Without experience in car accident claims, victims often do not know how to value their accident claim and ensure they receive a settlement that covers their accident-related losses both now and in the future. The Los Angeles car accident attorneys at Ellis Law will assess your accident-related needs both at present and in the future to be sure you do not settle for less compensation than you deserve or need for your injuries.
Ellis Law is a full-service law firm and does much more than protect you from insurance company practices and protocol. Our firm also works diligently to build you the strongest, trial-ready car accident claim possible by:
Handling all insurance company correspondence, including phone calls, letters, and settlement negotiations;
Thoroughly investigating your accident and reconstructing the accident scene to determine which parties were at fault;
Obtaining evidence to prove liability and pursuing any sources of compensation;
Proving the total impact of the accident on your life;
Collecting any available police accident reports;
Gathering accident scene evidence and taking photos;
Interviewing any eyewitnesses;
Getting copies of traffic camera surveillance or store security camera footage;
Organizing your medical records and other documentation;
Assessing your lost wages and future lost earnings;
Procuring any chemical test results, cell phone records, and other useful evidence proving the other driver(s) caused the accident; and
Getting damage estimates for all vehicles.
At Ellis Law, a car accident lawyer in Los Angeles will keep you informed as your claim progresses. If you would like to learn more about these or any other services offered at our firm, call us in Los Angeles today. We will gladly answer your most pressing legal questions and address your car accident concerns in a no-obligation consultation.
Causes of Car Accidents in Los Angeles, CA
Car accidents are not uncommon in Los Angeles. According to the Los Angeles Police Department, there were nearly one hundred and fifty car crashes per day in Los Angeles in 2019.
Many factors account for these accidents, including:
Distracted driving;
Drunk driving;
Speeding;
Tailgating;
Defective equipment;
Hazardous road conditions;
Ignoring traffic signals;
Inclement weather;
Time of day; and
Drowsy driving.
One of the most cited reasons for car accidents in Los Angeles is distracted driving. Distracted driving is driving while engaged in any activity that diverts one's attention away from the road. There are three types of distracted driving: cognitive, visual, and manual.
Cognitive. Cognitive distracted driving is anytime a driver's mind is not focused on driving. This may be due to daydreaming or thinking about stressful issues;
Visual. Visual distracted driving is not focusing on the road ahead. Looking down at a GPS, watching a movie, or looking in a mirror are all examples; and
Manual. Manual distracted driving involves taking one or both hands off the wheel for any reason. This could include eating or drinking, or handling a cell phone.
One way to stay safe from distracted driving is to put any mobile devices away before driving a vehicle. Using a cell phone while driving is a cognitive, visual, and manual distraction from the road and activity of driving a car.
Car Accidents and Catastrophic Injuries
There are several types of car accidents, and many are closely related to driver activity before the crash.
The following are some of the most commonly cited car accidents on Los Angeles roadways:
Car and pedestrian accidents;
Hit and run accidents;
Car and motorcycle accidents; and
Car and bicycle accidents.
The above accidents represent an overwhelmingly large number of car accident fatalities and catastrophic injuries. Catastrophic injuries are severe injuries that require long-term or lifelong medical care.
Neck and spinal cord injuries are some of the most serious catastrophic injuries resulting from car accidents. Other life-changing injuries include:
Traumatic brain injuries (TBI);
Paralysis;
Disfigurement;
Crushed bones; and
Victims of catastrophic injuries may need physical therapy, surgical procedures, medications, and specialist care throughout their accident recovery. Those victims with ongoing medical needs may require in-home assistance or nursing care.
Car Accident Liability
Serious injury care is extremely expensive. Thankfully, under California state law, anyone who contributes to a car accident can be held legally and financially responsible for the consequences. Therefore, a car accident victim can seek compensation from numerous parties, including, but not limited to:
Drivers of other passenger cars;
The driver of your vehicle, if you were a passenger;
A passenger in your vehicle, if you were the driver;
Bus drivers;
Trucking companies;
Transit companies;
Vehicle manufacturers;
Mechanics or vehicle repair shops;
Government agencies; and
Employers of negligent parties.
If the victim of a car accident shares fault for their injuries, the victim's percentage of responsibility for the accident is determined along with their total amount in damages. Any monetary award the victim may receive is reduced by the percentage of fault they share for the accident.
Car Accident Compensation
Once the cause of a car accident is identified along with any liable parties, monetary damages are sought to compensate the victim for all of their accident-related losses. Depending on the seriousness of the victim's injuries, the costs of an unexpected car accident can be in the tens or hundreds of thousands of dollars.
According to a study by the National Safety Council, a disabling injury costs, on average, $96,200 throughout a victim's life. This amount does not take into account any pain and suffering or mental and emotional damages suffered by the victim as a consequence of the accident.
Fortunately, a car accident victim can receive compensation for all of their injuries, damages, and suffering from any liable parties upon proving fault for a car accident. In California, compensation for a car accident falls into one of two categories economic or non-economic damages.
Economic damages are damages that have a fixed or approximate dollar amount. The purpose of these damages is to put the victim back as closely as possible to the financial situation they were in before the accident.
Economic damages may be present or future expenses or costs and often include:
Hospitalization;
Surgery;
Medication;
Medical devices;
Any other medical expenses;
Lost income and wages;
Temporary and permanent disability;
Property damage;
Nursing care; and
Rehabilitation.
Non-economic damages are losses without set costs or specific monetary values. These are subjective, intangible damages such as:
Pain and suffering;
Emotional distress;
Depression;
Anxiety;
Post-traumatic stress disorder;
Loss of enjoyment of life;
Disfigurement and scarring; and
Loss of consortium.
Calculating non-economic damages can be difficult and may require the assistance of medical professionals, therapists, vocational experts, and psychologists to determine.
In California, there are no limits on non-economic damages, with the exception of medical malpractice cases. In medical malpractice cases, the maximum damages recoverable is $250,000. In every other personal injury case, the victim can be awarded any amount that a jury deems appropriate.
There is also a type of damages called punitive damages. Punitive damage awards are intended to punish the defendant for their actions. These damages are only available in situations when the defendant's conduct is so outrageous or egregious that punishment is believed necessary by the court. There is no cap on punitive damages in California.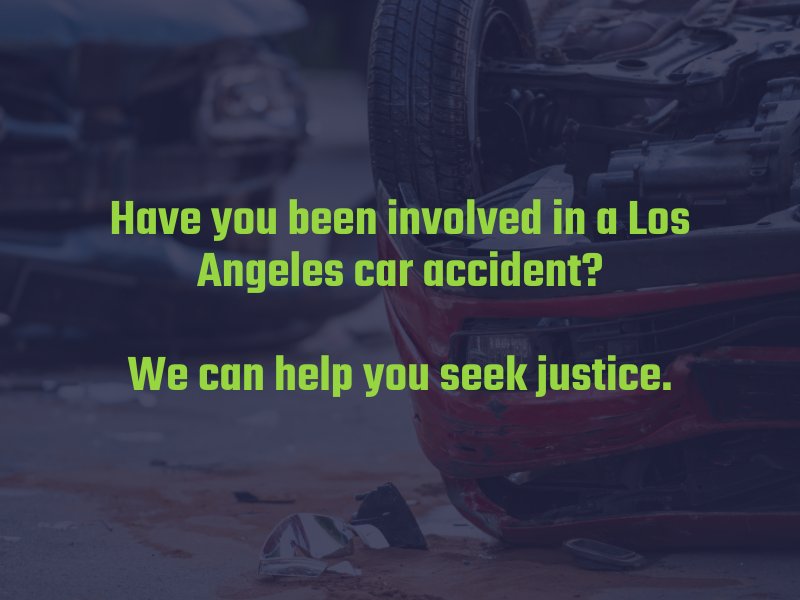 What to do After a Car Accident
Getting into an accident can be overwhelming and incredibly frustrating. Therefore, it is essential to know the steps to take if and when you are involved in a California car accident.
It is important to do the following to preserve your legal rights and ensure your physical health after any car accident:
Call 911 and request police and medical assistance at the scene of the crash;
Get a medical examination even if you do not feel your injuries are severe at the time;
Remain at the scene (if your injuries are not life-threatening) and exchange information with other parties;
Refrain from admitting fault, accepting blame, or apologizing for the accident;
Take photographs and videos of the scene, vehicles, and injuries, if possible;
Direct all communication to an experienced car accident lawyer in Los Angeles.
The decisions you make following your car accident significantly impact your health and the strength of your legal claim for damages in the future. Getting a car accident attorney in Los Angeles involved in the process early in the process can make your car accident claims process proceed more quickly and smoothly.
Always undergo a medical evaluation, even if you show no immediate signs of injury. Car accident injuries can take days or even weeks for the onset of some symptoms. A physician may detect certain severe injuries, including brain injuries, before symptoms present themselves. Moreover, medical documentation is beneficial to your legal case when the time comes to file your car accident claim.
Contact an Experienced Car Accident Attorney Today
After sustaining serious injuries in a car accident in Los Angeles, you are likely to have accumulated large medical bills and lost time at work due to a hospital stay and at-home recovery. It would be best to have a legal advocate who will protect your right to recover compensation for your injuries and other losses.
At Ellis Law, our Los Angeles car accident attorneys will listen to your story, discuss your needs, and work towards achieving your personal case goals. Whether you choose to settle your injury claim or pursue a trial, we have the resources and the experience to take on even the most complex car accident litigation.
The insurance company has a team of adjusters and attorneys on their side working to protect their bottom line and preserve their company's profits. You need strong legal representation to prepare a case on your behalf, proving the at-fault party caused the car accident and your injuries are a direct result of that accident.
At Ellis Law, our Los Angeles car accident attorneys take an aggressive stand on your behalf and fight for your right to compensation while holding any negligent parties responsible for their actions. You can trust Ellis Law to do the right thing on your behalf at all times throughout your case from start to finish.
Call Ellis Law today if you were injured in a Los Angeles car accident. Whether you need a fatal car accident lawyer in Los Angeles or a personal injury lawyer for injuries, our personal injury attorneys are prepared to start working on your behalf today. Your initial consultation is risk-free and at no cost to you.
Client Review: 5/5
★ ★ ★ ★ ★
If you're injured in an accident, I would highly recommend Ellis Law.
– Luis Amesola
Ellis Law Corporation
2230 E Maple Ave,
El Segundo, CA 90245
Local: (310) 641-3335
Toll Free: 310-300-7777
Click here for directions to our Los Angeles office.