Lawsuit Filed Against SoCal Edison, PG&E, City of Ventura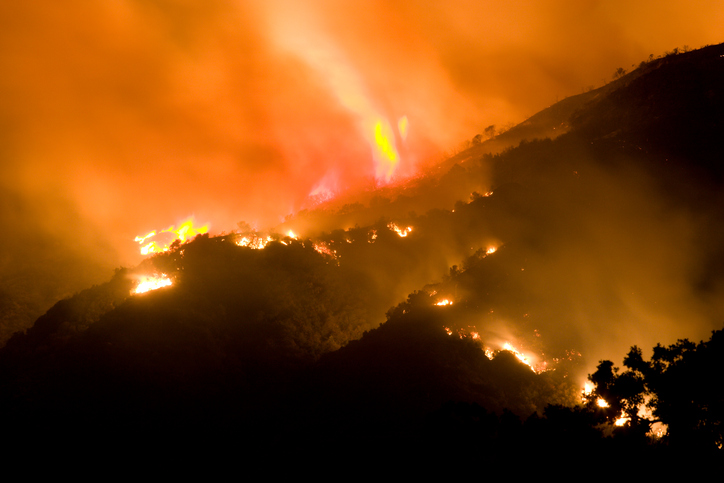 Six residents of Ventura County have filed a lawsuit against the two main utility companies and the city of Ventura, alleging that they are liable for damage caused by the Thomas Fire, the largest wildfire ever recorded in the history of the state of California. The fire began in the hills above Thomas Aquinas College on December 4, and an official cause has yet to be determined. It gutted more than 1,000 homes and buildings and contributed to the deaths of two people, including a firefighter.
Wildfire Allegedly "Not an 'Act of God'"
The litigants, each of whom suffered property losses, contend that the blaze started with sparks from Edison's power lines or electrical infrastructure.
"The fires were not an 'Act of God' but were caused by the intentional, negligent and wrongful conduct of SCE and other defendants," according to the complaint filed. The case is Vitullo v. Southern California Edison, B688977, California Superior Court, Los Angeles County.
The residents maintain that the utility was negligent because the company either did construction "in an unsafe manner which ignited vegetation" or failed to maintain overhead electric and communications facilities. The complaint states that had the utility "acted responsibly, the Thomas Fire could have been prevented."
Lawyers argue that some fire hydrants operated by the Casitas Municipal Water District and the city of Ventura weren't functioning correctly due to power outages, and the loss of power made it more challenging for rescue teams to save residents' homes.
Past cases support new Thomas fire allegations
Among the claims in the suit is one under the California law of "inverse condemnation" that could hold companies responsible for damages, even if they aren't found negligent. PG&E Corp. is fighting similar claims in more than 100 suits filed by property owners and others affected by fires in Northern California's wine country that burned through more than 245,000 acres last October.
Downed power lines have ignited large California wildfires in the past, and utilities all throughout the state have had to cough up millions of dollars. Following the 2007 Corral fire in Malibu, Southern California Edison paid  the state nearly $40 million in fines.
Legal action in the aftermath of the Southern California wildfires
For more than two decades,  Ellis Law has helped those who have suffered significant losses in Southern California's wildfires. Our firm has the expert skill required to go head to head with the state's biggest utility companies and other responsible parties, and we are currently reviewing potential claims from victims throughout Ventura, Los Angeles, and localities affected by the Thomas Fire.
Our team of fact-finding investigators, legal talent, and medical experts work together to build the strongest case on your behalf. From getting the necessary expert witnesses for testimony to evaluating case costs, our singular motivation is your best interest. Ellis Law collaborates with credible experts from to provide our clients with the knowledgeable testimony that is often needed to establish liability, negligence, and damages in such serious matters.
Contact Ellis Law today at 310-641-3335 for a free consultation about your case.