I Fell at Work: Can I Sue?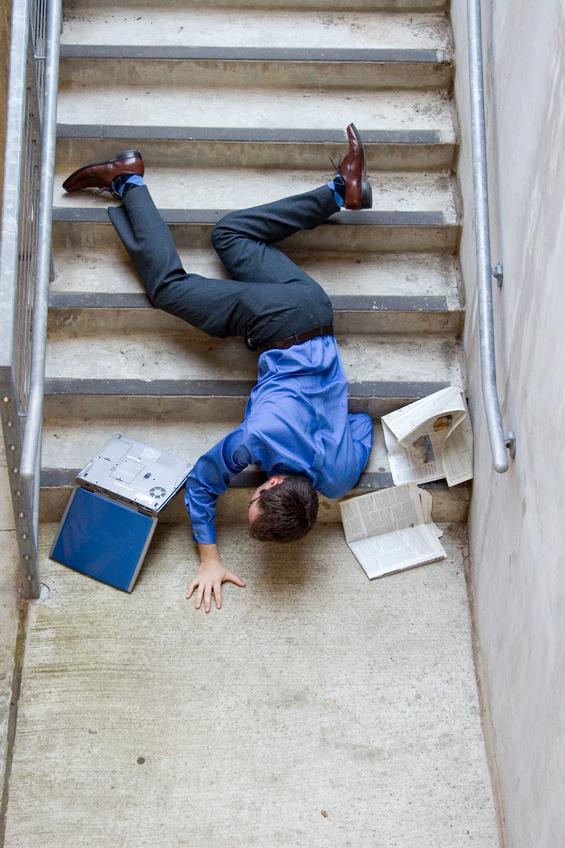 In most cases, falling down and injuring yourself on someone else's property is covered by premises liability law. You might be able to file a premises liability lawsuit against the owner of the property, if that owner can be found liable for a pre-existing hazardous condition on the property. However, injuries that occur while on the job are governed by workers' compensation regulations.
Because every case is subject to unique circumstances, it's best to consult a personal injury lawyer about your particular situation. Ellis Injury Law invites you to contact our offices for a no-fee, no-obligation case consultation. We charge no fees unless we win your case. Take advantage of our 99% success rate, and call today!
Documented losses
First, your lawyer will need to verify that you did suffer a loss because of the accident. If you fell at work and didn't sustain an injury, then you have no workers' compensation claim and no grounds for a lawsuit. This is why lawyers urge injured individuals to seek medical care right away after an accident. A doctor's findings can be instrumental in substantiating your claim. Additionally, many people mistakenly think that they're less injured than they truly are. It's always best to err on the side of caution, and get examined—just in case. Remember to save all of your receipts for your related medical expenses, keep track of lost work time, and retain any other related documents.
The cause of the fall
Workers' compensation is a no-fault system. This means that the workers' comp insurance carrier is required to pay an employee's medical expenses for a covered injury or disease, in addition to a portion of lost wages if the employee is out of work for a minimum length of time. There are some exceptions, however. If the employee intentionally self-inflicted the injury, it's not covered. But in most cases, workers can receive workers' comp after sustaining an injury while on company time.
Can you file a premises liability lawsuit?
There's one tradeoff for employees who are covered by workers' comp. Because of this coverage, they almost always forfeit their right to sue after becoming injured. But there are exceptions, and your premises liability lawyer can determine if you might have a case after all. For example, you may be able to sue your employer if you were injured because of their intentional or egregious conduct. If your employer doesn't carry workers' comp, but is legally required to, you can sue your employer. You may be able to sue a third party if that person caused your injury, such as an independent contractor who caused you to trip and fall down the stairs at work. You should also be able to sue the manufacturer of defective equipment, such as a defective ladder, as well as the manufacturer of a toxic substance if it caused you to become ill.
Premises liability and other personal injury cases are notoriously complicated. If you've been injured at work, you need seasoned litigators on your side. Call our Los Angeles premises liability lawyers at 310-641-3335. We invite you to schedule a free, no-obligation case review to become familiar with your situation and discuss how you can secure compensation for your injuries.
Additional resources for injured plaintiffs
State of California Department of Industrial Relations, Injured Worker Guidebook, http://www.dir.ca.gov/injuredworkerguidebook/chapter1.pdf
Society for Human Resource Management, Workers' Compensation: Eligibility: If an employee slips on ice in the parking lot is it covered by workers compensation? https://www.shrm.org/resourcesandtools/tools-and-samples/hr-qa/pages/cms_022560.aspx