How Many People Have Died From Falling Down Stairs?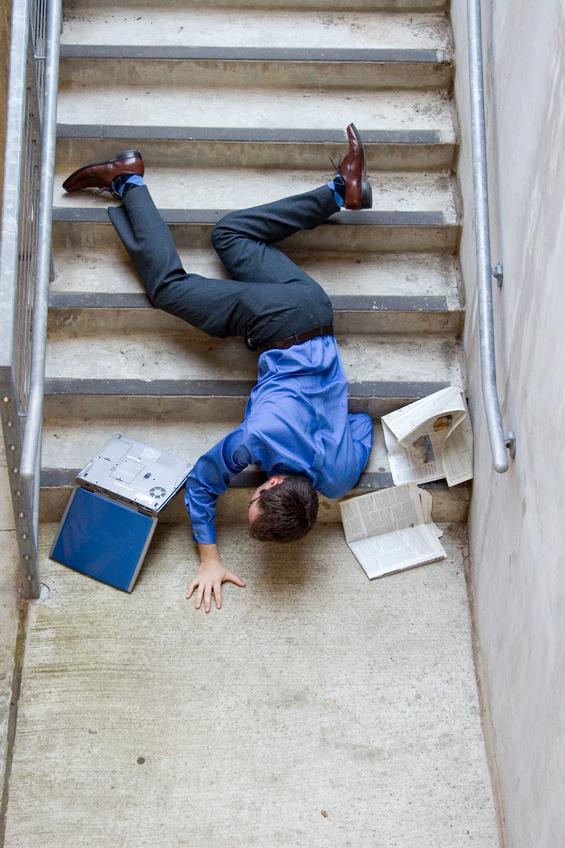 According to the most recent data on stairway accidents in the United States, an estimated 12,000 people die from falling down steps each year. Following motor vehicle accidents, falls are the second leading cause of accidental injuries in the home and workplace, and stairs present numerous opportunities for people to hurt themselves. If you or a loved one has fallen due to negligence, you can learn your rights from an experienced Los Angeles slip and fall lawyer at Ellis Injury Law.
Who is most at risk for falling?
Elderly people are most at risk for injuring themselves on a staircase. Statistics from the National Safety Council show that Americans over the age of 65 are more prone to fatal injuries from falling down stairs. Poor balance, low vision and impaired coordination and strength put thousands of seniors at risk for debilitating injury as they ascend or descend steps.
Data suggests that a broken hip is the most common injury from stairway falls, and in senior citizens this injury is often devastating. A shocking 30 percent of elderly die from these fractures and more than two-thirds will never regain their previous level of mobility.
While using stairs is a part of our normal routine and rarely viewed as a hazardous endeavor, one misstep can take away a person's health and independence, especially those who are older and already frail.
Common causes of stairway falls
The majority of stairway accidents are caused by a loss of balance. This may happen when we are rushing, trip over a stationary object on the ground, carrying a heavy load, or are distracted and not watching our footing. Because our perception of risk is so low, we often fail to use handrails, which are designed to help mitigate falling, tripping or slipping dangers.
Given that stairwell falls can lead to major injury and even death, building codes for staircases are very demanding. A well-designed staircase with proper hand rails can help promote better safety, but this cannot eliminate falling dangers entirely. It is also necessary to ensure that treads and step surfaces are routinely inspected for trip hazards. A failure to perform regular maintenance or conduct repairs in a timely basis can be a recipe for disaster and potential litigation in the event a guest or patron falls and is seriously injured. A slip and fall attorney can let  you know if  your injury is a result of negligence, and help you understand your rights in a accident of this type.
Wet spots and spills should be cleaned up, loose carpet mended, and eroded treads fixed quickly. In addition, broken lights need to be replaced to ensure the stairs are well illuminated. These types of hazards are the responsibility of the landlord to maintain.
Other causes of stairway falls include:
Damaged or faulty handrails
Hazardous stair risers
Broken steps
Slippery treads
Premises liability lawyers in California
When negligence plays a role in a staircase fall or injury, victims have the right to seek legal reparations. Whether the accident occurred in a commercial or residential setting, property owners are required to ensure that their premises are reasonably safe for use, and to warn guests about possible dangers.
If you or a loved one were injured in staircase fall, and want to discuss your case with experienced legal counsel, we invite you to reach to a Los Angeles personal injury lawyer at Ellis Law.
Call Ellis Injury Law to request a free consultation with a Los Angeles premises liability attorney today.