Fiery 405 Crash Near LAX Claims 3 Lives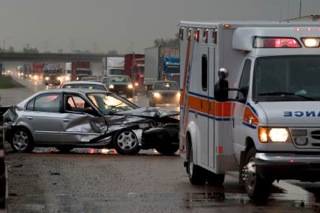 Three people died and one was critically injured in a fiery crash last Saturday near the LAX international airport. According to the California Highway Patrol, the accident happened on the Century Boulevard connector of the 405 Freeway, just before 8 am. Police say the vehicle swerved off the highway, careened on an embankment before hitting a concrete column. The impact caused the Toyota Scion to flip over and burst into flames. By the time emergency first responders arrived on the scene, the Scion was completely engulfed in flames.
Of the four occupants in the car, only one person survived. The victims were all recent graduates or current students at Moreno Valley's Valley View High School.
Crash claims lives of two teenagers
Authorities say that 19-year-old Devin Thomas was transported to Harbor-UCLA Medical Center with critical injuries. Another 16 year-old passenger, also a resident of Moreno Valley, was later pronounced dead at a local hospital. According to the California Highway Patrol, 19-year-old Aldo Noe Acosta Verdin – who was driving the Toyota Scion – was killed immediately.  In addition, a 24-year-old female passenger, who has not yet been identified, also died at the scene.
Century Boulevard was closed for four hours as police and first responders attended to the victims. At this point in time, authorities are investigating the cause of the deadly accident, but California police believe that excessive speed is a probable factor.
Officials have asked witnesses and those with information about the crash to call California Highway Patrol.
Legal recourse for car accident victims
Motor vehicle accidents in Los Angeles and the surrounding metropolitan area are on the rise. Every personal injury attorney at Ellis Law leverages more than 25 years of experience litigating car accident lawsuits and achieving justice for our clients. Our award-winning legal team has procured a number of favorable personal injury and wrongful death settlements and successfully tried hundreds of cases in state and federal courts in southern California.
Whether you were involved in a rear-end collision or were hit by a distracted driver, car crashes can result in a number of financial hardships including:
Vehicle damage
Medical expenses including those for medication, surgery, rehabilitation and ongoing care
Lost income
Pain and suffering
Emotional distress
Reduced earning capacity
Our Los Angeles car accident lawyers seek just compensation for victims who have sustained life-altering injuries and for families who are grieving the death of a loved one. Many victims assume the insurance company of the liable party will handle the claim fairly, but the reality is that most will attempt to undercut settlement amounts. For this reason, it's imperative that car accident victims retain competent legal advocates who can fight for maximum compensation.
Importance of legal representation
There are a number of reckless actions that may give rise to a car accident claim. Motorists who fail to obey traffic rules, speed excessively, text and drive, or are impaired by drugs or alcohol may be found liable for an accident they cause.  An experienced Los Angeles personal injury lawyer can prove negligence and demonstrate to insurers or jurors where fault lies.
Ellis Law has the resources and expertise to win car accident claims, and is able to take on cases with no upfront legal fees. Call 310-641-3335 to learn about your legal options during a free consultation.