Ellis Law News: Details on Obamacare Health Act Reform for the State of California
A 40-year-old Californian with a moderate income will pay between nothing and $219 a month for a basic health insurance plan next year under President Barack Obama's health care reform law, a state agency announced Thursday.
Covered California, the authority in charge of the state's health insurance exchange, has released details about what the health insurance market for individuals who don't get coverage at work will look like next year. In all, 13 health insurance companies will sell products on the exchange, and premiums will range from 2 percent more to 29 percent less than what comparable plans cost this year, the agency said.
California is not only the most populous state in the U.S., but it also has the highest number of uninsured residents, 7.3 million in 2011. The state is tied for the fourth-highest percentage of residents without health insurance at 20 percent, census data show. The state embraced health care reform soon after Obama signed the law in 2010 and is seen as a bellwether for whether the initiative can succeed.
The results of Covered California's negotiations with health insurance companies belie predictions of massive premium increases under the law, at least for products that offer a range of benefits similar to those currently sold to small businesses.
The average cost of a standard health insurance plan sold on the health insurance exchange will range from $304 to $321 a month in the Golden State next year, Covered California announced. Compared to existing plans with comparable benefits and factoring in available subsidies for low- and moderate-income people, prices like these represent either a small increase or a significant decrease in the monthly costs, the agency said.
"This is a home run for consumers in every region of California," Peter Lee, the executive director of Covered California, said in a press release. 'Our active negotiating will not only benefit potential enrollees to Covered California, but will benefit all Californians by making health care affordable.' California is one of just six states that will use their negotiating leverage to force lower premiums under Obamacare.
Health insurance companies and political opponents of the health care reform law repeatedly have cautioned that its benefit mandates and limitations on industry practices like excluding sick people and charging higher rates to women and older people would dramatically raise premiums.
The evidence to date is mixed. In Maryland, CareFirst BlueCross BlueShield requested that the state approve a 25 percent hike in premiums for individuals for next year. In contrast, two health insurers in Oregon actuallyscaled back their proposed increases after seeing what their competitors planned.
Prices could be higher for individuals who currently buy skimpier coverage than will be permitted under Obamacare in the individual market. The law mandates that insurance covers things like prescription drugs and maternity care, which will tend to increase premiums. This especially could affect younger and healthier customers.
"Californians in the individual market may pay more than they have before for the additional benefits — even if those are benefits they may never use," the California Association of Health Plans said in a press release.
Tax credit subsidies may offset premium increases for those who earn less than four times the federal poverty level, or $25,960 for a single person this year.
Starting next year, 5.3 million Californians who don't receive health benefits from their jobs will be eligible to buy health insurance from the exchange marketplace, according to Covered California. Individuals who buy health coverage for themselves rather than get it through their employment represent just 5.6 percent of the state's current health insurance market, the California Association of Health Plans said in a press release Thursday.
California's leading health insurance companies, including Kaiser Permanente, WellPoint subsidiary Anthem Blue Cross, Health Net, and Blue Shield of California will participate in the exchange. Several large national health insurance companies including UnitedHealth Group, Aetna and Cigna, won't sell products through Covered California.
"With today's announcement, we have proof that health reform can stimulate competition and increase value for consumers," Blue Shield of California President and Chief Executive Officer Paul Markovich said in a press release.
Among those who can purchase health insurance via Covered California, 2.6 million will qualify for financial assistance because they have incomes ranging from 133 percent of the federal poverty level, which is $15,282 for a single person this year, to four times the poverty level. Those with lower incomes will gain access to California's Medicaid program, called Medi-Cal.
Covered California estimates that 46 percent of those eligible to shop on the health insurance exchange will be Latino, 33 percent will be white, 14 percent will be Asian and 4 percent will be African-American.
Under Obama's health care law, four grades of health insurance will be available on the state-based exchanges. They are named after metals that signify the levels of coverage and premiums: Bronze, Silver, Gold and Platinum. Subsidies are based on an individual's income and pegged to the cost of a Silver plan. People younger than 30 can opt for a bare-bones "catastrophic" plan, but cannot receive subsidies to offset its cost.
In practice, that means a 40-year-old Californian can choose among a variety of levels of coverage at a range in price. This table from Covered California illustrates the average amount a consumer will pay, displayed in black, and the value of what the government will pay to insurers, in green.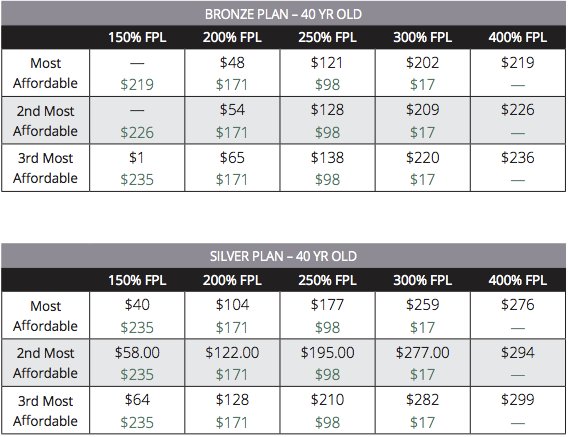 One of the most important, and least certain, goals of health care reform is to attract younger and healthier people into the health insurance market. This segment of the population would pay premiums into the system but have fewer medical costs, and they are needed to balance the high health care costs of older, sicker people. This is particularly important, since Obamacare forbids health insurance companies from rejecting people with preexisting conditions and restricts how much older customers can be charged.
Unsubsidized catastrophic health insurance will cost an average of $136 to $168 a month for a 21-year-old next year, according to Covered California. That same customer could elect for a Bronze plan that, depending on her income, would cost between nothing and $185, or a Silver plan with monthly premiums that range from $44 to $230.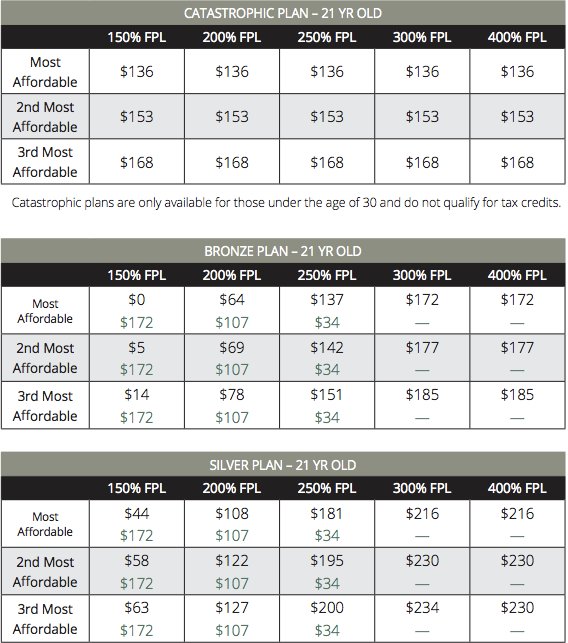 For more information, contact our Los Angeles personal injury attorneys today.