Ellis Law Firm Kicks Off Football Season With An Apple iPad Giveaway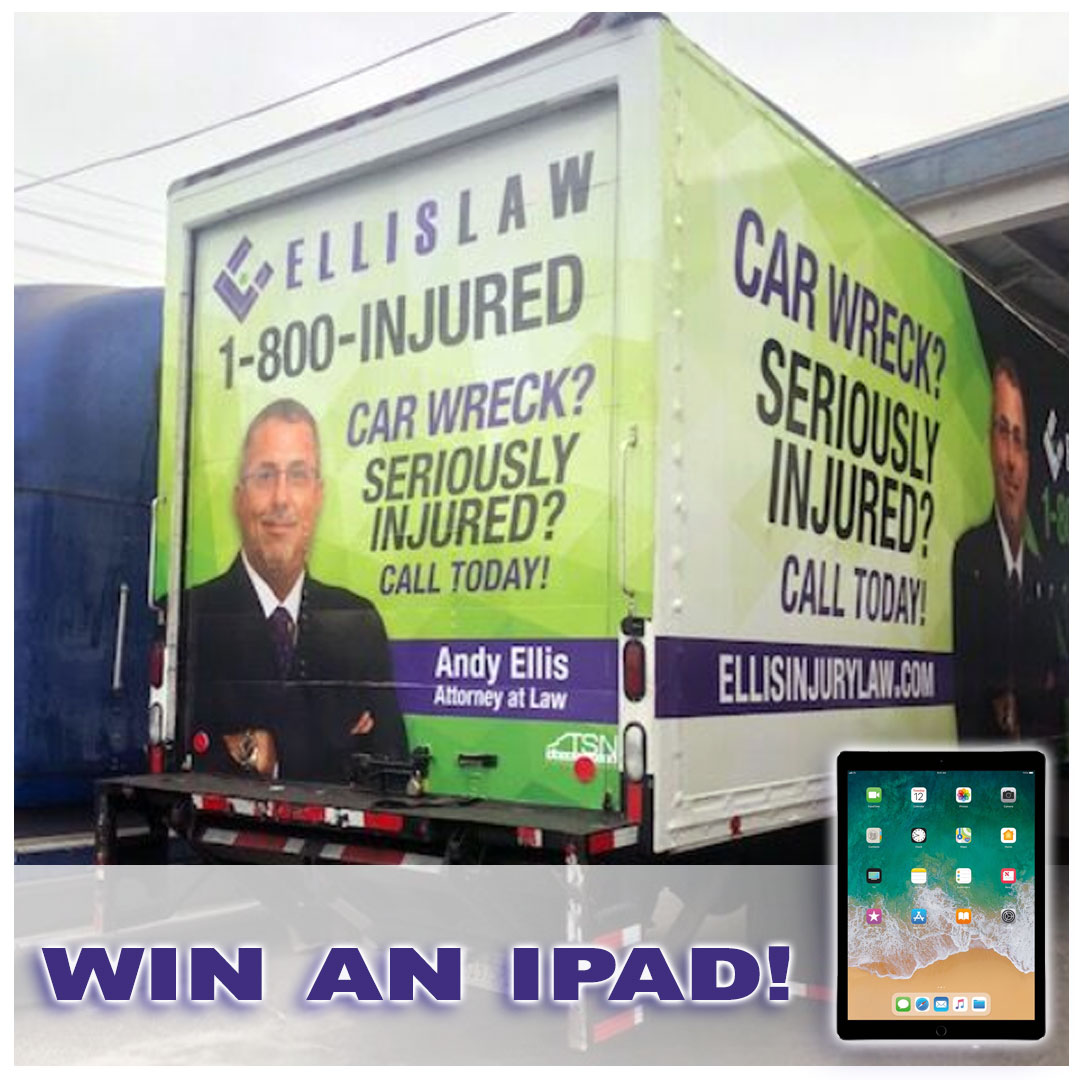 Ellis Law Corporation is treating football fans to a special opportunity this fall. If you spot our branded truck at one of the NFL games this month, you could win a brand new 32GB Apple iPad! Our personal injury firm has 20 locations throughout California, from Sacramento to San Diego. Our truck was last spotted at the LA Coliseum for the Rams vs. Cardinals game.
Your next opportunity to spot us will be at the LA Coliseum for the Chargers vs. Rams game on Sunday, September 23.
How To Enter To Win A Free iPad
Spot our branded truck at one of the area NFL games between 9/16/18 – 9/30/18. Check our Facebook page to see which games we'll be at!
Take a picture of the truck with your mobile device.
Visit our Facebook page and "LIKE" us (click the thumbs-up symbol).
Post your picture of our truck in the Comments section of our Contest Post with the hashtag #IFoundEllisLaw.

OR

 … Can't make it to the game? Simply like our Facebook page and comment about the game in our Contest Post.
Contest Rules
You must be 18 years or older and a resident of California to participate. One winner will be chosen at random on October 1st, 2018. If you are announced as the winner, you must message the Ellis Law Corporation Facebook page to arrange a day and time to pick up your prize from our central office at 2230 E. Maple Avenue in El Segundo, California (90245). Please note: the iPad is Wi-fi enabled, but no cellular plan is included.
This promotion is in no way sponsored, endorsed or administered by or associated with Facebook.
What the Andy Ellis Truck Looks Like
Our box truck is so large it's hard to miss, and we've wrapped it in green and black with the logo "Car wreck? all it takes is one call," and a picture of Andy Ellis on the side.
We're excited for you to spot our new wheels on September 23 at the LA Coliseum!
California Personal Injury Attorneys
Automobile accidents are one of our main areas of litigation. We want you to know who to call when tragedy strikes. When the other motorist was speeding, driving drunk, texting and driving, running a stop sign or light, or failing to yield the right of way, you have a legal right to compensation.
We know how hard it can be to recover from a serious crash. Medical bills mount, you may not be sure where to obtain the best possible medical care, and you're probably feeling your confidence behind the wheel shaken. Lost time off work only further compounds the financial stress. Andy Ellis and his compassionate team of experienced Los Angeles personal injury lawyers can get to the bottom of what happened in those few decisive seconds before your crash to help you recover from your accident.
Contact Ellis Law Corporation if you have any questions about seeking legal representation following a car accident or if you have any questions about our September NFL iPad promotion.