Deadly Upland Crash Might Be Linked to Street Racing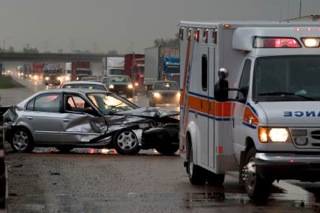 A crash near Euclid Avenue and 8th Street on Wednesday, October 26 resulted in one fatality. Upland police lieutenant Alan Ansara confirmed that the crash was reported at about 4:30 p.m. and that, according to an eyewitness statement, another vehicle had been seen speeding down the street at the time of the incident. This has raised concerns about the possibility of illegal street racing.
Aerial footage of the crash site depicted a horrific scene in which a black car had wrapped around a tree. Its engine was sitting in the street. It appears that the driver of the black car had been speeding on Euclid Avenue heading south when he lost control.
Young driver identified
A day after the fatal crash, the driver of the wrecked car was identified as 23-year-old Geoffrey Eugene Haffner, a resident of Upland. He had been driving a Chevrolet HHR SS. The other car that may have been involved in street racing is thought to have been a dark-colored Chevrolet Camaro. It has not yet been located and the investigation is ongoing.
Later reports indicated that two eyewitnesses had estimated the speed of the vehicles at about 90 miles per hour. Haffner's vehicle became airborne as it careened out of control. The top of the car struck the tree, essentially folding in the front and rear ends of the vehicle.
"Personally for me, that's the worst damage I've seen to a vehicle in my career," said Ansara. "Any time you have an incident like this, we'll look at whether alcohol was involved, but there's nothing to say one way or another whether alcohol was involved there," he went on to note.
Friends of Haffner gathered at the crash site not long after it was reported. On Thursday night, fellow automotive enthusiasts attended a vigil in Haffner's memory.
Liability issues in wrongful death claims
As horrific as the Upland crash was, it could have been much worse. Investigators say that if the car had not been stopped by the tree, it could have plowed straight into a crowded Mexican restaurant, potentially killing other victims. In cases that involve the loss of life, the surviving family members do have legal recourse available to them. They may choose to file a wrongful death lawsuit against the negligent party or his estate in order to demand justice for their lost loved ones.
In some cases, it may even be possible for the surviving family members of the deceased driver to file a lawsuit. If the crash had been caused by a defect of the vehicle, then the manufacturer might be held liable for the loss of life.
Trusted legal guidance in Los Angeles
The personal injury attorneys at Ellis Law approach every case with the respect and courtesy that our clients deserve. If you've lost a loved one in an accident or you've been injured because of someone else's negligence, you can count on us to guide you through the process of seeking justice.
Our experienced litigators have recovered more than $350 million for our clients. To request a confidential and complimentary case evaluation, call our Los Angeles office at 310-641-3335 today.