Crash Involving Angels' Mike Trout Injures One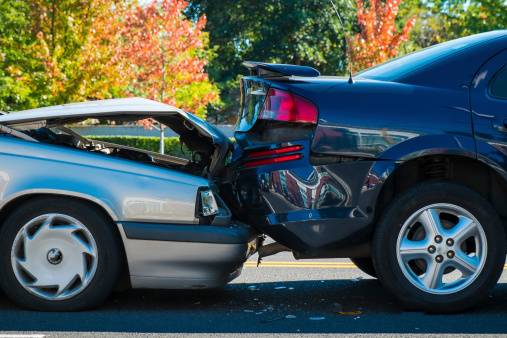 Mike Trout, star center fielder for the Angels, was involved in a serious car crash last week that left one motorist with "major" injuries. Trout was unhurt during the crash and was able to travel with the team to Seattle the next day. There are no details about the female motorist who was taken to the hospital after the accident.
The collision occurred on Wednesday evening, August 31. Trout and some of his teammates were traveling home after dinner that night on the 55 Freeway when Trout had to swerve to avoid a group of vehicles that had come to a sudden stop in front of him.
The front of his Mercedes collided with the rear bumper of a Chevrolet Sonic, sending that car into a truck stopped in front of it before it came to rest along a fence on the shoulder of the road.
Details of rear end collision
The woman driving the Sonic was freed from the vehicle by emergency personnel and was taken to a nearby hospital where she was reported as having "major injuries." The woman remains in the hospital and her identity and the extent of her injuries will not be released until insurance companies involve complete their investigation.
Trout told the Orange County Register this was his first car accident and he called it a "scary" experience. He is not allowed to discuss the details of the accident until the investigation concludes. He has cooperated with officials throughout the aftermath of the incident. Once the investigation is over, he will also be able to reach out to the injured motorist, which he plans to do.
He added that he expected to wake up sore the next day, but he actually felt fine. His Mercedes did not fare as well, with significant damage to the vehicle's front end where the impact occurred.
Car accidents in Orange County
Orange County ranked 26 out of 58 counties in California for injury and fatal accidents in 2013. During that year, the county saw 14, 839 victims killed or injured in motor vehicle accidents. Nearly 2,500 of those accidents involved speeding, making them third in the state for speed-related crashes resulting in an injury or death.
Determining liability in car accidents is critical to ensure the victims receive any monetary compensation they might be entitled to. The person pursuing damages must be able to prove the other driver was negligent in some way, whether failing to obey traffic laws, driving recklessly or driving under the influence. A seasoned attorney can help accident victims navigate the complex process of proving fault so they can collect damages for medical bills, lost wages and other non-economic losses.
Ellis Law offers skilled legal advice to victims of vehicle accidents in Orange County. Our Los Angeles personal injury attorneys will provide you with a free evaluation and answers to all your questions regarding your case. Contact our office today at 310-641-3335.