Community Mourns Death of Young Hacienda Heights Couple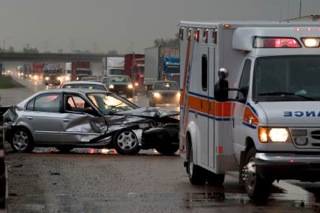 The community of Hacienda Heights is morning a pair of sweethearts that was killed in a dramatic car crash on Sunday. According to family, eighteen-year-old college students Sabrina Castillo and George Steward II were headed to meet friends at Knott's Scary Farm but never made it there.
On Monday night, grieving family and friends gathered at the crash site to remember Steward and Castillo and to express grief over their deaths.
The couple was just starting out in life, having graduated from Los Altos High School earlier this year. Castillo was a business student at Citrus College and Steward a football player at Mt. San Antonio College.
Speed a factor in crash
At about 6:55 p.m, Castillo and Steward were driving a 2015 Toyota Tacoma near the 60 Freeway at the South Seventh Avenue off-ramp. A 2013 Lexus ES 350 exited the freeway at high speed and failed to stop at the stop sign. The Lexus was travelling too fast to make an intended right turn and instead struck a raised concrete median, became airborne, and struck Castillo and Steward's Tacoma.
The force of the Lexus shaved the top of the Tacoma off and both occupants died at the scene. The Lexus landed on its roof in a grass median in a nearby parking lot.
Investigators look at car malfunction
According to investigators, the Lexus had been speeding down the off-ramp at about 90 mph when the car hit a dip and then hit the median. The driver later claimed that the car had experienced a mechanical failure. Toyota, the parent company of Lexus, released a statement expressing sympathy for anyone involved in an accident involving one of their vehicles and pledging to work closely with law enforcement whenever requested.
Just hours before the vigil, the driver of the other involved vehicle was identified by authorities as 68-year-old Key J. Kim. He and his female passenger, 60-year-old Young A. Kim, both also of Hacienda Heights, were transported to Los Angeles County-USC Medical Center with major injuries. Alcohol and drugs are not believed to have played a role in the accident.
Legal recourse in the wake of a wrongful death
The law recognizes the rights of families affected by a wrongful death and provides routes to seek justice. Some deaths may result in criminal charges. But regardless of whether the offender faces criminal prosecution, family members may have grounds for pursuing a separate personal injury suit. An at-fault party can be held responsible if they caused the wrongful death through their intentional actions, recklessness, or even simple carelessness.
Once the initial shock passes after a sudden loss, the closest family members are often left with financial hardships. By filing a wrongful death lawsuit, they can recover damages for the lost financial support their loved one would have provided over his or her lifetime, medical bills related to the fatal injury, and compensation for lost companionship emotional support, and lost relationships.
If you have suffered the loss of a family member in Los Angeles or Southern California and believe another person was responsible, Ellis Law attorneys are available to discuss your legal options. We offer free no-obligation case evaluations. Please call 310-641-3335.