Car Accident Risk Increases with Sleeping Aid Use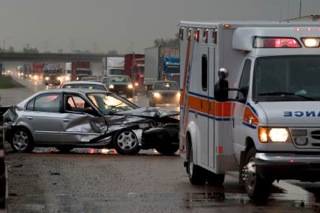 Sleep medications like Ambien have been associated with a host of risks for some time, but a new study specifically links these drugs with a higher risk for car accidents. It appears that taking drugs like Ambien as directed before bed can actually increase your risk for a car crash the next morning.  If you are a victim of one of these incidents, a Los Angeles car accident lawyer at Ellis Law can give you the information you need about liability and the possibility of legal action.
Washington study looks at 3 medications
Researchers from the University of Washington discovered that sedating sleep medications like Ambien (zolpidem), Restoril (temazepam) and Desyrel (trazodone), significantly increased the likelihood of car accidents for new users, versus those who had never taken the drugs.  Those who took the medications regularly could see an increased risk for up to one full year. This hazard was noted despite the fact that the FDA cut dosing amounts for female Ambien users two years ago, amid concerns that the drug could lead to morning drowsiness and associated dangers.
In this study, which was published in the June 11 online edition of the American Journal of Public Health, researchers looked at driving records for more than 400,000 adults enrolled in public health plans in Washington. All of the adults included in the study were also drivers. Of the records scrutinized, six percent of the adults had been prescribed a sleeping medication by their physicians between 2003 and 2008.
Researchers found that the risks associated with driving after taking these sleep medications were comparable to those associated with driving under the influence of alcohol. People who took Restoril had a 27-percent increased chance of a car accident, while those taking Desyrel were 91-percent more likely to have a crash. The highest risk was seen in Ambien users, who more than doubled their risk of a car accident the morning after taking the drug.
Millions suffer from sleep problems
The Institute of Medicine estimates that between 50 and 70 million Americans suffer from either a sleep disorder or sleep deprivation. Around 8.6 million end up taking prescription sleeping medication to help with this problem. However, concerns over side effects have been growing, with the FDA issuing new dosing recommendations and usage warnings in recent years.
"This finding is shockingly not shocking," Dr. Christopher Winter, a spokesperson for the American Academy of Sleep Medicine, told Health Day in response to the study's findings. "Sleeping pills are a huge problem."
The findings come at a time when impaired and distracted driving has reached epidemic proportions across the United States. Drowsy driving, a problem that could in part be attributed to the use of sleep aids, also accounts for a notable number of car accidents each year. The AAA Foundation for Traffic Safety found that between 2009 and 2013, drowsy driving was a factor in six percent of accidents that involved a towed vehicle, 13 percent of accidents where a person had to be hospitalized and 21 percent of accidents involving a fatality.
Getting legal help
Ellis Law is disturbed by the recent study findings, but not surprised in light of the growing problem of distracted driving and DUIs. We have seen firsthand the tragic consequences that can occur when someone gets behind the wheel of a vehicle while under the influence of sleeping medications, alcohol or other substances. We represent the victims of those accidents, helping them get the legal compensation they need to recovery from their injuries and losses and move on with their lives.
If you have been the victim of an impaired or distracted driver, help is available. Contact an LA car accident lawyer at Ellis Law today to learn more about your legal rights and your eligibility for legal action. We offer free case evaluations and are available to answer all of your questions. Contact us today at 310-641-3335.