5 Counts of Manslaughter Brought Against Teen Driver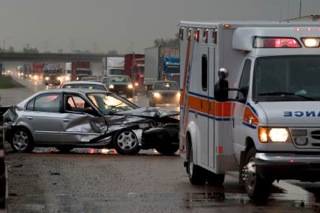 On October 4, 2014, Bradley Morales and five of his friends went to a Halloween-themed event at the Knott's Berry Farm amusement park to celebrate a birthday. Later that night, all five of the passengers lost their lives in a fiery car crash. The sole survivor was then-16-year-old Morales, who had been thrown from the vehicle before it was engulfed in flames.
However, it wasn't until October of this year that the prosecutor decided to bring manslaughter charges against Morales.
On October 3, 2015, the teen was taken into custody. He was booked in the Orange County Juvenile Detention Center and charged with five felony counts of gross vehicular manslaughter.
Investigation revealed driver was unlicensed
The crash occurred on the 5 Freeway in Irvine. According to investigators, Morales was driving south near the 133 Freeway interchange. At about 2:10 a.m., the white 1995 BMW Morales was driving veered off the road. It struck a guardrail, went up an embankment, and struck a concrete retaining wall where it burst into flames. The flames fueled a small brush fire around the vehicle. All five of the teens killed in the crash were found inside the BMW. Their ages ranged from 14 to 16.
Although Morales survived, he suffered a serious head injury. He was transported to a hospital, where he underwent neurosurgery to repair a severe skull fracture and an epidural hematoma.
In addition to the five counts of felony vehicular manslaughter, Morales has been charged with driving a motor vehicle without a driver's license and with failure to show proof of financial responsibility. Even if Morales had been able to show a driver's license, California law prohibits drivers under the age of 17 and a half from driving between 11 p.m. and 5 a.m. They are also generally not allowed to have passengers under the age of 20.
"Our investigators took a great deal of time and painstakingly went over this case to ensure a thorough and comprehensive investigation was completed," said Captain R. Shackleford of the California Highway Patrol.
Family members offered their thoughts
After the collision, autopsy reports indicated that three of the teens had died of multiple blunt force trauma injuries caused by the car accident. One of the victim's cousins informed the media that the family had been told the investigation would be lengthy, given that as much evidence as possible would be collected. The same family member recently told the media that he was pleased by news of the arrest of Morales.
However, not long after the crash, a mother of one of the 15-year-old victims informed the press that criminal charges wouldn't bring her solace. Instead, she expressed her hope that Morales would dedicate his life to uplifting the community, such as by helping others to avoid his mistakes.
At Ellis Law, our attorneys would like to extend their sympathies to the family members of those killed in car accidents. If you would like to discuss your options for bringing a personal injury or wrongful death lawsuit in Los Angeles, please call 310-641-3335 to schedule a free, no-obligation case review.