5-Car Collision Sends 4 to Hospital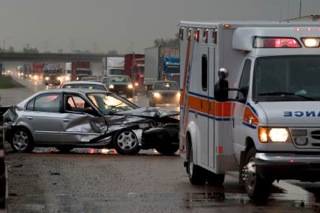 A car crash involving five cars in Hollywood Hills sent four people to the hospital on January 5. Two adults and two teenagers were transported to area hospitals. The adults, a man and woman, were listed in critical condition and the teenage girls were listed in fair condition at the time they were transported.
The crash occurred around 9:14 in the evening in the 3700 block of North Barham Boulevard, according to a report from KTLA. At this time, there has been no update on the cause of the crash or the injured victims.
Rescuers arrived on the scene first reported that six people had been injured. However, that number was changed to four victims a short time later.
Uptick in CA car accidents
California is no stranger to car accidents; in fact, the number of accidents has been on the rise in recent years. A report last fall in the Sacramento Bee found that California traffic accidents increased 13 percent in the three years leading up to 2013, which was higher than the national increase of 10 percent. Officials attribute the uptick, at least in part, to an improved economy that has led to more California residents hitting the roadways to go to work each day.
However, state traffic officials have also noted that more cars on the road does not necessarily equate to more crashes. In fact, crowded streets tend to see less incidents due to the fact that motorists are forced to slow down speeds and pay closer attention to the road. The increase in collisions may also be due to more California drivers using smartphones while driving, leading to potentially fatal distractions.  Another possible factor is an upswing in driving under the influence.
California laws and liability
If you are involved in a traffic accident in California, there are a few basic guidelines you must follow. First, if the accident caused any deaths or injuries, local police or the California Highway Patrol must be notified immediately. The officer that comes to the scene will perform an investigation to determine exactly how the accident occurred and who was at fault. The police investigation and report will usually be considered first in determining accident liability, since it is typically the most thorough and objective information available about the incident.
California uses the "fault system," which means those involved in the accident must prove fault in order to receive insurance compensation for property damage, car accident injuries and other losses. In some cases, multiple people may be at fault for a single accident, so insurance compensation is based on the amount of fault for each motorist. If the victim of an accident does not believe he has received proper compensation from an insurance company based on liability, he may choose to file a lawsuit to pursue additional damages for losses.
Due to the complexities involved with determining fault in a traffic accident, it is important to have the support of a skilled legal team on your side. Ellis Law has more than two decades of experience successfully handling such claims. To receive a free evaluation of your case with a veteran Los Angeles car accident lawyer, call 310-641-3335.