3 Places Slip and Falls Commonly Occur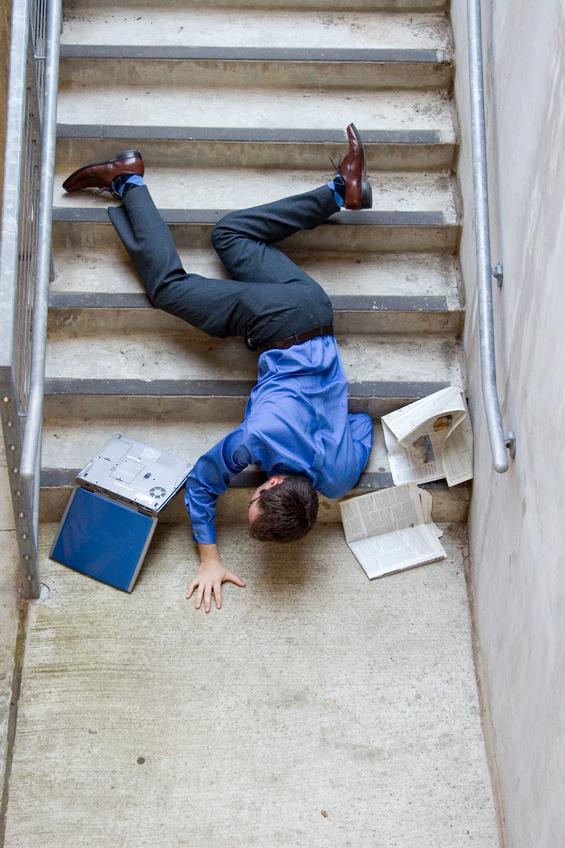 Slip and fall accidents are common, but that does not mean they are harmless. In fact, they are the leading cause of emergency room visits, leading to over a million ER trips per year.
Like other common causes of injury, many slips and falls are preventable. According to the National Floor Safety Institute, more than half of all slips, trips, and falls are caused by walkway hazards and many victims require the services of a Los Angeles slip and fall lawyer.
Here are some of the places slip and falls most often occur, why they happen, and how to avoid them.
Slip and falls in the home
Falls cause half of all deaths that occur in the home, and most happen at ground level, rather than from elevated surfaces like ladders. Slips and falls are so common that The Hartford lists it among the seven most common types of homeowners' insurance claims. It advises homeowners to reduce the likelihood of an injury by repairing hazards like uneven front steps, loose hand railings and removing snow and ice from driveways and walkways.
Slip and falls in nursing homes
The older people get, the greater their risk of a serious fall-related injury. The likelihood of a fall increased with each decade of life so it should be no surprise that nursing homes and other places frequented by seniors are common places to slip and/or fall.
One out of ever three people over the age of 65 experiences a fall in any given year, and half of those falls will be a repeat by someone who has already experienced a fall. Hip fractures are the most dangerous, and the most likely to lead to death; half of those over the age of 65 who are hospitalized for a hip fracture cannot live on their own – or at home – after the injury.
Nursing home administrators and employees need to carefully watch and help residents and implement effective safety procedures to prevent falls.
Slip and falls at work
The vast majority of worker's compensation claims – 85% – arise from employees slipping on floors and nearly a quarter of slip and fall accidents led to at least a month out of work.
The number of fatalities caused by occupational falls has been cut in half from 1200 per year in the 1970s to 600 per year, but occupational falls are still common in practically all manufacturing and service sector jobs. Employers can help reduce the likelihood of occupational slips and falls by enforcing safety procedures and providing training for dealing with on-the-job hazards.
Recovering from a slip and fall in southern California
Homes, nursing homes, and workplaces are the most common places people experience a slip and fall but they are far from the only places they occur. From shopping malls to city parks, slip hazards can be present anywhere people are.
Wherever they occur, slip and fall accidents can cause physical, financial, and emotional loss. The good news is the law often provides a remedy. Our experienced attorneys understand the challenges that these situations present and we have a 99% win rate for personal injury cases we take on. They will provide the assistance you need and give you the individualized care you expect from a caring attorney.
If you or a loved one have been injured in a slip and fall accident in southern CA, call a slip and fall attorney at the Ellis Injury Law Firm in Los Angeles for a free case evaluation. We are experts in helping victims get the maximum compensation possible.
More info on where slip & fall accidents commonly occur:
National Floor Safety Institute, Slip & Fall Quick Facts, https://nfsi.org/nfsi-research/quick-facts/
The Hartford: The Extra Mile: 7 Common Home Insurance Claims and How to Avoid Them, https://extramile.thehartford.com/home/home-insurance-claims/