3 Great California Road Trip Ideas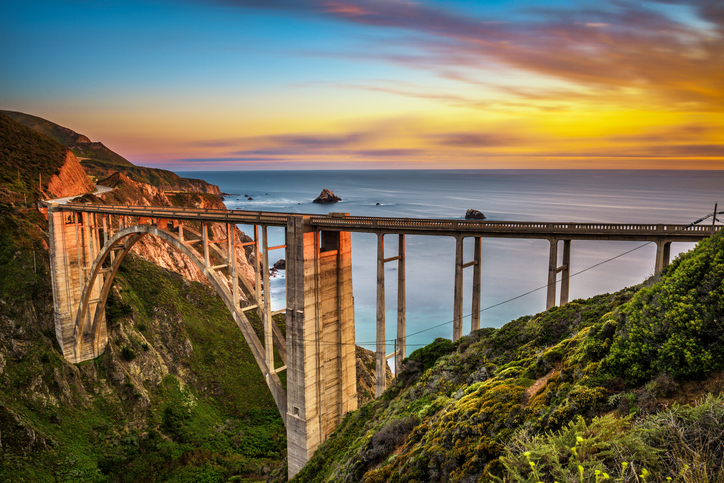 The rumors of the road trip's demise have been greatly exaggerated. Yes, people do tend to fly these days, and even when they drive, the destination usually takes priority over the journey itself. But many people still love the quintessentially American road trip. So get the car tuned up and get ready to see the amazing sights America has to offer. California is the perfect state for a classic summer road trip because of its many natural wonders, charming small towns, and exciting attractions.
Exploring the High Sierra
The High Sierra is a drop-dead gorgeous region in the Sierra Nevada mountain range in eastern California. Plan to take at least a week exploring this area. Start at Lake Tahoe, and take your time enjoying the crystal clear waters and clean air. The nearby resorts feature mountain biking and hiking trails for summer visitors. From there, drive about two hours south on I-395 to Bodie, a ghost town. After you explore, head down to Mono Lake Tufa State Natural Reserve. It's a geologically unique, million-year-old lake. From there, head to Mammoth Lakes and Devils Postpile National Monument. The Devils Postpile is a weird rock formation that looks like it can't possibly be natural—except that it is. Continue on to the rest of your road trip stops: The Manzanar National Historic Site, Mount Whitney, Sequoia & Kings Canyon National Parks, Yosemite National Park, and Calaveras Big Trees State Park.
Fresno Blossom and Fruit Trails
If you're in the mood for a shorter day trip, take the 62-mile loop east of Fresno. Late winter and early summer are the best times to go. You'll see beautiful, blossoming cherry trees, and if you go in the early summer, you'll have ample opportunities to sample the local fruit markets. Some must-see stops are Simonian Farms in Fresno, Cedar View Winery in Sanger, and Hillcrest Farm in Reedley.
Rim of the World Scenic Byway
The name says it all. It's 100-plus miles of winding roads around mountains and overlooking lakes, cliffs, and the Pacific Ocean. Start at State Highway 18, which will take you around the San Bernardino Mountains, and get your camera ready as you head up to Big Bear Lake. Along the way, keep your eye out for stops like Lake Arrowhead, Heaps Peak Arboretum, and the Keller Peak Fire Lookout near the town of Running Springs. Bring your bathing suit for some summer fun at your final destination—Big Bear Lake. It has just about every water sport imaginable—paddle boarding, kayaking, wakeboarding, waterskiing, jet skiing, sailing, and power boating.
No matter how carefully you plan your road trip, unexpected problems can crop up when you least expect them. A car accident can completely derail your vacation plans, but with the help of the Los Angeles car accident attorneys at Ellis Law, you can move forward from the crash. At Ellis Injury Law, we have years of experience securing compensation for our clients' medical bills and property damage. Call us today at 888-744-0191 for your free case consultation.
Additional resources for planning your California road trip:
Good Housekeeping, 20+ Road Trip Must-Haves, https://www.goodhousekeeping.com/travel-products/g453/road-trip-essentials/
Smarter Travel, 10 (and a Half) Tips for Road Trips, https://www.smartertravel.com/2017/06/19/10-half-tips-road-trips/